Ghostbusters: Co-op And Customization For Xbox 360/PS3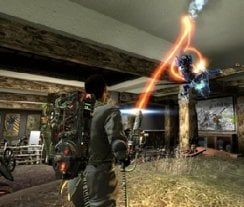 If you read the fact sheet for this game there's plenty to awe and drool over. However, the fact sheet may leave quite a bit to be desired when it comes to details, especially in regards to the multiplayer; the cooperative functions, the character creation and the equipment upgrades.
The guys over at Co-Optimus continued their interview for Ghostbusters with two key members from the PS3/Xbox 360 development team, Michael Fetterman, Executive Producer and Brendan Goss, Producer at Terminal Reality. In the original interview with Red Fly Studios, Co-Optimus discussed the multiplayer variety and distinction for the Wii version of Ghostbusters. This time they bury the hatchet a bit deeper in the infrastructure of the cooperative functions and multiplayer modes for the PS3 and Xbox 360 version of the game.
One thing that's definitely worth noting is that while the co-op campaign is completely separate from the single-player experience, the game still seems to contain a good measure of replay depth. Gamers will be able to choose to do instant action levels around the city, battling ghosts in a handful of different modes or they can choose to do a quasi-campaign mode with up to three friends.
The character data is persistent, with stat tracking, leaderboards, and upgradeable equipment. There's much more discussed in the interview, regarding multiplayer, which is worth a gander. My only gripe is that they didn't confirm or deny split-screen play for the 360/PS3 version. Anyway, you can check out the interview over at Co-Optimus. For more gaming news, info and updates, be sure to stay tuned in with Blend Games.
Your Daily Blend of Entertainment News
Staff Writer at CinemaBlend.