Interstellar Marines: Deadlock Update Goes Live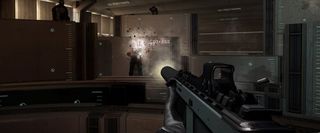 Zero Point Software is still hanging in there and they have no content up and available for members, including the new cloud-based, multiplayer ready update for the sci-fi FPS Interstellar Marines, called Deadlock.
According to Electronic Theatre, the team at ZPS announced the availability of Deadlock today, which is exclusively available to all registered Spearhead and Frontliner members on the Interstellar Marines website.
The Deadlock update includes a fully workable combat-range, so gamers can exercise those FPS skills on targets, a newly integrated real-time weather system with the latest in visual effects to give you that nice warm feeling you get when you're out there experiencing the harsh frontier of space life, as well as support for a feature called Open Door Development.
Basically, Zero Point wants to move the project forward allowing for a more transparent look into the progress of Interstellar Marines, so gamers and enthusiasts alike will be able to spot, support and look into the progressive nature of the game's development while it happens.
If things continue to progress this steadily, it won't be long before we see the PSN and XBLA versions of Interstellar Marines popping up on the respective digital distribution platforms.
For further information on the game or learn more about the new Interstellar Marines: Deadlock update, feel free to find out more at the Official Website.
Your Daily Blend of Entertainment News
Staff Writer at CinemaBlend.