Move Over SixAxis And Wii-Mote, GameCap Is Here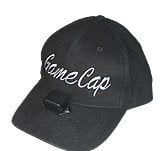 While the SixAxis and the Wii-mote have ushered in gaming with game movements controlled and manipulated with flicks, twirls and twists of the wrists, Therapy Trainer has introduced a comfortable cap that gamers wear, which allows users to control movements on-screen.
The GameCap is pretty cool, pretty new and definitely worth the attention of those recovering from a stroke, gamers in need of repairing hand-eye coordination and those just looking for a little hat-tilting fun.
Lisa Daily commented regarding the cap, saying "We have so many amputees that use our bikes to keep up their upper body strength and they love walking around on the virtual reality worlds but found it difficult to pedal the bike with their arms and steer their character/vehicle on-screen." She went on to say, "…we designed The GameCap, it has a computer chip mounted on the bill of the cap that allows them to control the steering on their on-screen character/vehicle with slight movements of their head. They love it!"
Technology at its finest, if I must say so myself. You can learn more about the GameCap and other products by visiting the Official Therapy Trainer Website. We'll keep you posted on more updates and news regarding this kind of technology, right here at Blend Games.
Staff Writer at CinemaBlend.