PS4 Wins May Sales, Wii U Sales Are up 90%, Microsoft Stays Silent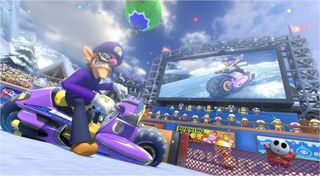 There were a lot of pre-NPD rumblings that the Wii U would pull off a huge upset when it comes to sales performance in May. It appears that that may be true given the latest NPD figures.
The top ten games of the month were rattled off courtesy of Venture Beat, which you can view below.
1. Watch Dogs (PS4, Xbox One, 360, PlayStation 3, PC)
2. Mario Kart 8 (Wii U)
3. MLB 14: The Show (PS4, PS3, Vita)
4. Wolfenstein: The New Order (PS4, Xbox One, 360, PS3, PC)
5. Minecraft (360, PS3)
6. The Amazing Spider-Man 2 (360, PS3, PS4, Xbox One, 3DS, Wii U)
7. NBA 2K14 (360, PS4, PS3, Xbox One, PC)
8. Titanfall (360, Xbox One, PC)
9. Kirby: Triple Deluxe (3DS)
10. Call of Duty: Ghosts (360, PS4, PS3, Xbox One, PC, Wii U)
We already know that Watch Dogs moved over 4 million units in May and Mario Kart 8 moved over 1.2 million units in three days. That number for Mario Kart is expected to exponentially multiply when the June NPD figures become available.
Software accounted for $274 million in retail SKUs for software throughout May, and Hardware sales garnered $187 million. Both hardware and software are up compared to 2013's figures.
According to DualShockers Sony was quick to release a press note about being number one yet again when it comes to hardware sales, with the senior vice president of PlayStation brand marketing, Guy Longworth, saying...
While Sony released no updated sales figures about the PlayStation 4, it was recently revealed by Statista [via Wall Street Journal] that the PS4 has breached the 8 million install base mark, appropriately sitting at 8.1 million units sold-through to customers.
Meanwhile, Nintendo responded in kind to the monthly figures – opting not to share specific numbers, just the same as Sony – with Gamespot reporting that the Big 'N' revealed that...
It seems odd that we're given all these vague and math-dependent figures in order to figure out what the numbers look like for the Wii U, but if we look at the figures from last year the Wii U only sold 160,000 SKUs over the course of three months within the quarter involving May.
If you look at the breakdown, the Wii U only sold 60,000 SKUs in North America over the course of those three months, which means that the Wii U could have only sold an estimated 20,000 in the month of May in North America (give or take). Based on the information that Nintendo provided Gamespot, that would mean that this May the Wii U could have sold 38,000 units in North America alone. That's not too bad considering that Mario Kart 8 launched at the very end of the month and would only have accounted for a very miniscule effect on the total sales for the month.
Earlier today Nintendo of America president Reggie Fils-Aime had revealed that the since the release of Mario Kart 8 the Wii U was moving around four times the amount of units two weeks prior to the release of the flagship racing title.
38,000 is neither good nor bad, but it all boils down to what the system moves in June. Having Reggie confirm that the system is still maintaining momentum moving into (and presumably out of) E3 is a good omen.
Interestingly enough, Microsoft has been silent (so far) about their numbers; and if the Xbox One managed to perform on par or less than the Wii U then that could be a huge blow to the brand. We'll provide an update if (or when) Microsoft decides to issue a response.
Staff Writer at CinemaBlend.
Your Daily Blend of Entertainment News
Thank you for signing up to CinemaBlend. You will receive a verification email shortly.
There was a problem. Please refresh the page and try again.