PSP-3000 Vs. Nintendo DSi: Special Round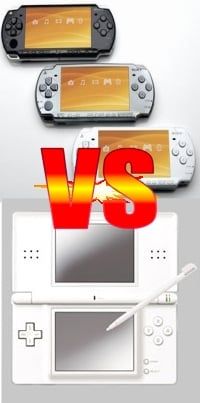 Since the PSP-3000 just came out and the Nintendo DSi won't be out for quite some time (in all regions), we figured we would have a preliminary round between this two. Just to gauge what gamers think about these two, and which one they would prefer to own. So without further lollygagging, let's get this show on the road.
Special Round
Money is going to be tight this holiday season (and presumably, thereafter). So gamers may not have the cash to spend on every game they might want, or every console, PC part, or portable gaming device they would prefer to have in their collection. So with this in mind, which portable gaming device (both entering their third-generation) would you prefer having? A PSP-3000 or a Nintendo DSi?
PSP-3000
The PSP-3000, which really does sound like a spiffy little vacuum cleaner, will feature a clearer screen, better resolution and more clarity when used in sunlight. More specifically, the P3 will be slimmer and sport a higher resolution for its screen, along with an increased color output. The PSP-3000 will also feature a new microphone for communication purposes, and can be used with certain televisions via composite cables. There's also been slight rearrangements with the buttons for better handling and gaming. The only downside is that there is already problems with visual artifacts appearing on the screen, along with some scanline issues, but otherwise the third-generation PSP is an improvement over the PSP-2000. The PSP-3000 is priced at $199.99
Nintendo DSi
The third-generation Nintendo DS takes things a step further than just improvement for gaming purposes (because, we all know that gaming isn't the most important part of a portable gaming device). The DSi, like the PSP3, will be thinner than its predecessor and will also feature a slight rearrangement of the buttons, for better handling. And like the PSP3, the DSi will feature screen improvements (not so much for graphical purposes) that will see a quarter-inch added to the portable system's screen size. The portable device will also contain two cameras, because we all know that one camera just isn't enough. Photos can be stored on SD cards or uploaded to the Wii Photo Channel. The new SD Card slot can also be used to store downloaded games and software from the Wii Shop Channel. There's also a DS store that will feature special purchasable items. This all comes at the expense of a GBA slot, so no more backward compatibility or GBA-device functionality. Ohh. The Nintendo Dsi will carry the estimated suggested retail price of $199.99
Time to vote!
All right...so you've read the details, you know the specs. There are good and bad things with both portable devices. Which one outweighs the other, and which one takes your vote?
This poll is no longer available.
Staff Writer at CinemaBlend.
Your Daily Blend of Entertainment News
Thank you for signing up to CinemaBlend. You will receive a verification email shortly.
There was a problem. Please refresh the page and try again.