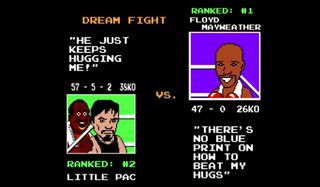 If you decided not to fork over $100 to watch the Floyd Mayweather Jr.-Manny Pacquiao fight this weekend, you can do the next best thing: watch a reenactment of the match in classic Nintendo game Mike Tyson's Punch-Out!.
Manny Pacquiao is cast in the role of Little Mac. Before he can challenge Mayweather, he has to agree to a long list of demands such as being paid less than his opponent.
After some dithering about the contract, Little Pac finally agrees to the match. While Punch-Out! players can usually expect gut punches, uppercuts and explosive knockouts, the Mayweather-Pacquiao ends up being nothing of the sort. Mayweather hugs Pacquiao for one round and then simply plays defense for the next ten.
"This must be really boring to casual fans," Pacquiao says after the 11th round.
"It doesn't matter. We already got their money," Mayweather replies.
"Boxing is dead."
"It doesn't matter. We already got their money."
At the start of the final round, Mayweather winds up like he's about to unleash some fierce combo. Instead, he lightly taps Pacquiao with his fist. Fight over. Mayweather wins. Referee Mario sums up the fight perfectly:
Mayweather then thanks the audience for their $100 and advises that they protect themselves.
The parody obviously simplifies things but it's pretty dead-on. Mayweather won a unanimous decision after 12 rounds of essentially playing defense. He blocked Pacquiao's biggest punches and then responded with accurate jabs. It might have been technically proficient boxing but it was fairly dull to anyone who wasn't a hardcore fan of the sport. I'd imagine most viewers' response was, "Did I really spend $100 on pay-per-view and stay up this late to watch THIS?"
Also, the negotiations were as drawn-out in real life as they were in the Punch-Out! parody. Mayweather and Pacquiao have been trying to get this fight organized since 2009. Negotiations stalled out a few times due to a range of petty issues. As the video suggested, Mayweather will make a lot more money off the fight, too. Mayweather will be paid around $180 million while Pacquiao earns around $120 million.
SNL aired their own parody of the fight as well this weekend. It's another good way to laugh off your disappointment over the fight.
Your Daily Blend of Entertainment News
Staff Writer at CinemaBlend.