Rare Pokemon Meloetta Free At GameStop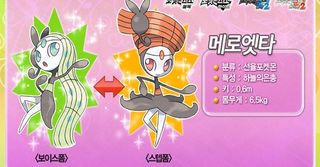 Pokemon trainers with a burning desire to "catch 'em all" are going to need to put in a little traveling to achieve their goals, as The Pokemon Company International announces a special promotion to bring the long-awaited Mythical Pokemon, Meloetta to players of Pokemon Black and White, as well as Pokemon Black 2 and White 2.
If there's one thing a trainer can't stand, it's an incomplete collection of battling critters. Meloetta is a unique Pokemon "with a musical flair, according to the Pokemon Company, and she also happens to be the first ever Pokemon to change forms in the middle of battle. If you ask me, that sounds an awful lot like cheating. Then again, Pokemon has always been a cutthroat sport of brutal competition, so I suppose a trainer will happily take any edge then can get their hands on.
Meloetta, for instance, shifts from a normal psychic-type Pokemon in its Aria forme into a normal fighting-type Pokemon in its Pirouette form. If you haven't guessed by now, I'm way out of the loop when it comes to Pokemon and can only assume that all of that jibba-jabba made some sort of sense to those more familiar with the franchise.
Assuming it did, then I suppose that means you're going to want to get your hands on Meloetta as soon as possible, and now GameStop is offering you a chance to do exactly that. Meloetta will be available for a short time starting March 4. In order to add her to your collection of cuddly pugilists, all you have to do is drop by your nearest GameStop around that time. If I'm not mistaken, that makes Meloetta one of the few Pokemon you can add to your team without the need of pummeling them into submission first.
Your Daily Blend of Entertainment News
Staff Writer for CinemaBlend.