Subsonic Lightsabers And Wireless Nunchuk Adapter For Wii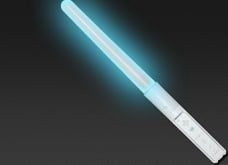 Due to Nintendo's new console being overwhelmingly popular, it seems like everyone and their cousin has a new device for the Wii. So it should come as no big surprise that the Wii is on the generous receiving end of third-party games and accessories. In this instance, game software and accessory publisher, Nobilis, has teamed with Subsonic for a new line of "Jedi weapons" for the Nintendo Wii.
"This is THE perfect accessory for 'Star Wars' fans or for sword fighting addict!! This laser sword has a motion detector, and space for the wrist strap." So says the press release. The actual fact sheet description for the space-age accessory is as follows:
Subsonic Lightsaber Features:
• Produces a strong blue light on the whole surface of the sword.
• 2 modes: turn on with the ON/OFF button, or motion detection (the swords lights when you move it).
• Requires 2 AA batteries not included.
• Wiimote not included.
Not bad, if you're a Star Wars fanatic. But I'm sure there will be plenty of small kids who will get a kick out of accidentally poking themselves in the eye while playing the latest sword-based Wii game. In addition to the lightsaber, though, Subsonic actually has a really useful wireless Nunchuk adapter to accompany the Wii-mote. Yep, a wireless Nunchuk; no more strangling yourself in that darned cord, or mistakenly unplugging the the Wii-mote and chuk while engaged in a really intense battle of Smash Bros. The details of the device are as follows:
Subsonic Wireless Adaptor for Nunchuk Features
• 100% compatible with all your Wii games. Works instantly, no adjustment needed.
• Connection by radio frequency 2.4 GHz. Works as well as a cable.
• Use several Wireless Adaptors at the same time for multiplayer games.
• The Nunchuk cable can be stored inside the handle.
• Requires 2 AAA batteries not provided. Up to 50 hours of game autonomy.
• Wii Remote and Nunchuk not included.
You can visit the Official Nobilis Website for more information on the new accessories for the Wii, or stay tuned in with Blend Games for more news and updates regarding the latest gaming products.
Staff Writer at CinemaBlend.
Your Daily Blend of Entertainment News
Thank you for signing up to CinemaBlend. You will receive a verification email shortly.
There was a problem. Please refresh the page and try again.