Super Mario Kart And Mega Man 5 Hit Nintendo Virtual Console This Week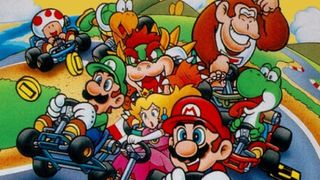 It's another slow summer week in the Nintendo camp, but at least the Wii U is getting a pair of pretty sweet Virtual Console games featuring a kart racing plumber and the Blue Bomber himself, Mega Man.
This week is all about the Virtual Console for Nintendo platforms, with six old school games spread out between the 3DS and Wii U, and a bit of DLC for the free-to-play portable combat game, Steel Diver: Sub Wars. Other than a couple of eShop sales, that's literally all there is in the "new games" category for fans to sink their teeth into. If you aren't in the mood for some nostalgia, then we'll see you back here next week, hopefully with some better news.
If, however, you're in the market for some Nintendo classics, then there's plenty to be jazzed about this week on both consoles.
First up is the Wii U, which is getting Cybernator, Life Force and Double Dragon II, only one of which the vast majority of you have likely actually heard of.
Also arriving this week is Super Mario Kart, the Virtual Console version of the Super Nintendo game that launched the huge franchise that's still drawing in loads of fans and cutting promotional deals with major automobile manufacturers.
"Super Mario Kart first launched on the Super NES in Japan on Aug. 27, 1992, and is releasing now on the Virtual Console in celebration of the game's upcoming 22nd anniversary," reads a statement from Nintendo, simultaneously making many a gamer cheer with excitement and groan with an overwhelming sense of 'Oh my god, am I really that old?!' "The classic game offers crazy tracks that will test your gears in two single-player modes and three multiplayer modes. Use power-ups and gain the advantage to finish in first place."
Also arriving on the Wii U Virtual Console is the legendary Mega Man 5. It turns out that Nintendo has partnered up with Capcom for the month of August in order to bring new content featuring the Blue Bomber to the Wii U over the next several weeks. Things kick off with Mega Man 5, offering up 13 tough-as-nails stages for players to master on their quest to overthrow the diabolical Dr. Willy.
Things are a lot more tame on the 3DS this week, with the Virtual Console version of The Mysterious Murasame Castle being the only new game arriving for the portable device. Steel Diver: Sub Wars is also getting some new DLC, boasting new stages, subs and crew members for players to take into battle.
Finally, there are a couple of sales for gamers to take advantage of, including a discounted price of $1.99 for Bear Box Media on the Wii U eShop and discounts on UFO Interactive Games titles for the 3DS.
Staff Writer for CinemaBlend.
Your Daily Blend of Entertainment News
Thank you for signing up to CinemaBlend. You will receive a verification email shortly.
There was a problem. Please refresh the page and try again.