True Blood Season 7 Premiere Now Free On Xbox One And Xbox 360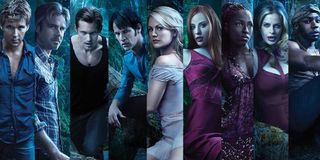 Xbox 360 and Xbox One owners can get a free taste of HBO this week. Gamers on both platforms can watch the first episode of True Blood Season 7 for no charge for a limited time.
True Blood centers on a small Louisiana town called Bon Temps where humans live side-by-side with vampires, werewolves and other supernatural beings. This coexistence is far from peaceful. The constant strife between humans and these other races doesn't prevent the characters from bumping uglies every episode, though. This is, after all, an HBO show. You don't get seven seasons through hand-holding and cheek-kissing.
Season 7 will be the series' last. At the outset of the season, humans and vampires are in all-out war. Bands of vampires are running amuck in Bon Temps, feeding on any humans they can find. The mortal inhabitants of the town band together with a few well-behaved vampires to stop them. Also, everyone has sex. All the sex.
Episode 1 can be accessed through the True Blood tile on the home screen of your console. You'll only have until Thursday to check it out, though.
"And yes, free means free," Microsoft said on Xbox Wire (opens in new tab). "You don't need an Xbox Live Gold or HBO GO subscription to get in on this action. Catch up with waitress and part-faerie Sookie Stackhouse and vampires Bill Compton and Eric Northman as they continue to live among humans and navigate new and increasingly dangerous threats to their existence."
They add that you shouldn't miss out on the romance, mystery and "biting humor." I had to read that terrible vampire pun so now you have to, too.
This is the second big HBO premiere to be offered to Xbox gamers for no charge. The first episode of Game of Thrones's fourth season was also released through Xbox Live. Microsoft gave gamers a full week to check out that episode, though. It's weird that the True Blood freebie is so much shorter but that decision probably rests with HBO.
HBO subscribers can watch every episode of True Blood and the network's other series with the HBO Go app on Xbox 360. This app also gives them access to comedy specials, movies and other content. Microsoft plans to release an Xbox One version of HBO Go later this year as well. They haven't provided a date for that yet, though.
HBO Go and other entertainment apps on Xbox consoles used to require Xbox Live Gold membership. However, Microsoft removed this requirement in early June. Now you only need to pay the app-specific subscriptions.
After you've watched the first episode of Season 7, you can discuss it over at TV Blend. Later episodes will air every Sunday at 9:00 p.m. ET.
Your Daily Blend of Entertainment News
Staff Writer at CinemaBlend.