Twisted Metal Mecha Robots Revealed In New Trailer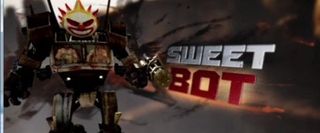 David Jaffe and crew have been hard at work on the next generation Twisted Metal adding all sorts of insane features, including deadly mechanized robots for some of the main characters to use.
Borrowing a little bit from Transformers, Twisted Metal sees Sweet Tooth and his arch rival going head-to-head in a brand new trailer where there's more than meets the eye. I'm not sure if what we see in the trailer will be truly playable in the new game but it sure is cool nonetheless.
I think the most impressive part about the whole thing is the Iron Maiden segment…very impressive indeed. You can check out the new trailer below or head on over to the Official Website to pre-order the game and receive a special bonus…Axel, that two-wheeled crazy from Twisted Metal 2.
Twisted Metal is due out exclusively for the PS3 on October 4th, this year.
Staff Writer at CinemaBlend.
Your Daily Blend of Entertainment News
Thank you for signing up to CinemaBlend. You will receive a verification email shortly.
There was a problem. Please refresh the page and try again.