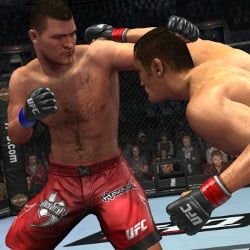 The Xbox 360 and PS3 versions of UFC Undisputed 2010 received a patch this week. The update seeks to address many online issues that players have been griping about.
The full patch notes are below. Due to the magnitude of these changes, the developers have reset the leaderboards for the game.
Changed Ranked and Player Match matchmaking to increase the success rate of joining online matches - applies to PS3 and X360.

Modified online point system so that players lose Ranked match points upon disconnecting from the match.
Disconnecting from a match now results in a loss for the player who disconnected

Removed instant takedowns. All takedowns now require a struggle.

Changed the Omoplata submission so fighters cannot cancel to a standing position.

Reduced the success rate of the AI when executing and defending submissions on higher difficulties.

Fixed CAF stats so they update correctly when moving to different weight divisions in Career mode.

Fixed a bug in Career in which the fighter is demoted to the WFA when he should not.

Career Fighters no longer keep their stats when copied to the Create A Fighter mode.

Career Fighters can no longer obtain stats of 100 in all categories (i.e. no Super CAFs)

Fixed a text bug in which "Team Cloud Tokyo" is displayed in the Camp Explanation Text for Team Higashi Camp.

Changed the Online Ticker to display more than one Online Ticker message after booting the game.

Fixed a bug in which the Monthly Ranked leaderboard is not reset for players in online matches during certain hours of the first day of the month.

Adjusted the Online Key message to indicate the location of the key code on the manual. (applies to newbies)

Updates the UFC fighter stats to accurately reflect UFC Draws and No Contests.

Your Daily Blend of Entertainment News
Staff Writer at CinemaBlend.