UFC Undisputed 3 Demo Now Available For Xbox 360, PS3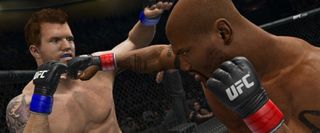 If you've been itching for some octagon action and can't wait to step foot into the cage once again, fear not for THQ has released a playable demo for Undisputed 3 to satiate your appetite for hand-and-foot violence.
The demo contains four playable fighters including popular fighters such as Jon Jones, Anderson Silva, Quinton "Rampage" Jackson and Wanderlei Silva. Players will be able to compete in a couple of different modes in the demo, including Mirror Mode, Vs Mode, and the highly anticipated Pride, which lets gamers relive the glory days of the well-respected fighting organization.
Danny Bilson, Executive Vice President, Core Games, THQ commented about the release of the demo, saying...
The game has a huge roster of 150 different fighters from all the different weight-classes featured in the UFC. A new graphics-based submission system has also been included, as well as improved camera work and ring-entrances, taking a few notes from the WWE with the whole pageantry effect.
You can look for UFC Undisputed 3 to land on store shelves for the Xbox 360 and PS3 starting February 14th. For more info be sure to pay a visit to the Official Website.
Staff Writer at CinemaBlend.
Your Daily Blend of Entertainment News
Thank you for signing up to CinemaBlend. You will receive a verification email shortly.
There was a problem. Please refresh the page and try again.