Uncharted 2, God Of War 3 Join PS3 Greatest Hits Library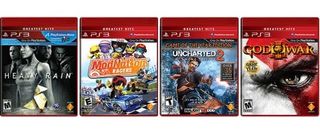 Sony is adding five more PS3 games to their Greatest Hits collection. These titles will be available in new packaging for $29.99 in the U.S. and Canada.
The new entries in the Greatest Hits library are God of War III, Heavy Rain, ModNation Racers, UFC Undisputed 2010 (THQ), Uncharted 2: Among Thieves – Game of the Year Edition. The UC2 Game of the Year Edition contains the game as well as $35 dollars worth of bonus downloadable content. The Greatest Hits Heavy Rain ships with Move support.
If you're a PSP gamer, note that Sony added six games to the PSP Greatest Hits collection and five to the Favorites collection this week as well.
Staff Writer at CinemaBlend.
Your Daily Blend of Entertainment News
Thank you for signing up to CinemaBlend. You will receive a verification email shortly.
There was a problem. Please refresh the page and try again.