The Walking Dead Developer Announces 7 Days To Die With New Live-Action Trailer And It's Gruesome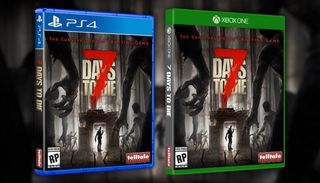 Just yesterday, Telltale Games' new publishing company, Telltale Publishing, announced on Twitter that they were going to reveal a new project with a partner developer today. They teased fans with two mysterious images, one of a spiked barricade or fence and the other image depicting a bloody handprint on a car window and a blurry, shirtless man standing in the background. But now, as promised, Telltale Publishing has released a trailer officially announcing the open-world, zombie survival game, 7 Days To Die.
Telltale Publishing announced the details of the game on their blog, referring to it as a zombie horde crafting game. Telltale Publishing will be bringing 7 Days To Die as both a physical retail copy and a digital download, in partnership with developer, The Fun Pimps.
The game will be set in a post-apocalyptic world overrun by ravaging zombies and will include crafting, looting, mining, combat, character growth and exploration. The trailer does a really nice job of showing off the crafting elements that will be included, such as building weapons and barriers to keep out the zombies. 7 Days To Die is expected to release sometime this June onto PS4 and Xbox One and will cost $29.99. 7 Days To Die is already playable on the PC and was actually funded on Kickstarter by The Fun Pimps back in 2013. And if you pre-order the upcoming console game, you will get five character skins from Telltale's The Walking Dead, two of them being Michonne and Lee Everett.
Just yesterday, we put out an article about the upcoming horror game, The Bunker, which is going to be completely live-action. And now seeing the announcement trailer for 7 Days To Die in live-action further corroborates my claim that more and more developers are looking to get creative with live-action. It takes me back to my early gaming days when I played Goosebumps' Escape From Horrorland on the PC. It was a mixture of live-action gameplay and cutscenes and animated gameplay—and it worked, even for 1996.
While 7 Days To Die doesn't have an official release date, we can at least narrow it down to sometime in June this year. You can head over to the official website for more information.
Your Daily Blend of Entertainment News