The Walking Dead's Norman Reedus Stars In Silent Hills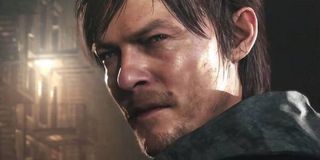 Hideo Kojima and Guillermo del Toro shared arguably the biggest surprise of Gamescom 2014. The two are working on a new horror game in the Silent Hill series called Silent Hills.
Like other Kojima-helmed projects, Silent Hills's announcement came after some elaborate teasing. During Sony's Gamescom 2014 press conference, they announced a horror game called "P.T." in development at 7780s Studio. 7780s Studio, as it turns out, is a completely fictional company. Kojima, you rogue!
After Sony's announcement, an interactive teaser for "P.T." hit the PlayStation Store. In the teaser, players explore a run-down home and get the bejesus scared out of them. Here's some gameplay footage from that teaser:
The most interesting part of the teaser, however, is the end. Here, we see a lone man exploring a seemingly abandoned town. As he walks down the desolate street, the names "Hideo Kojima" and "Guillermo Del Toro" appear. Eventually the man in the trailer turns to reveal it's Norman Reedus - or video game Normal Reedus, anyway. I guess he'll be providing the voice and motion-capture for this character:
Silent Hills seems like a dull title but there's plenty of things to like about this project. The team includes the creator of Metal Gear, the director of Pacific Rim and one of the stars of The Walking Dead. It's like a perfect storm for nerds. On top of all that, Silent Hills uses the impressive Fox Engine seen in Metal Gear Solid 5.
The Silent Hill series is in need of a dramatic resurrection like this. The franchise has been in a rut since what, 2003? The past decade has been marked by several so-so games produced by a range of studios. There hasn't been a new chapter in the series since Silent Hill: Book of Memories in 2012 - and that was an action RPG spin-off.
Silent Hills is also a second chance for Guillermo Del Toro to make a horror game. A couple years ago he was collaborating with Saints Row developer Volition on a game called inSANE. However, the project was seemingly killed when it was dropped by then-publisher THQ.
Kojima Productions is developing Silent Hills for an unknown release date. It's unclear whether the game will be released on any platforms other than PS4.
Staff Writer at CinemaBlend.