Watch The Pokemon GO Beta In Action In New Gameplay Video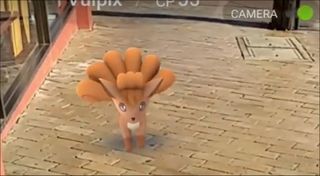 A new video has surfaced featuring beta gameplay from the upcoming mobile release of Pokemon GO, Nintendo's latest foray into augmented reality with the Pokemon brand. The video showcases a ton of new details, including customization, travel and more.
The eight minute clip above comes courtesy of YouTuber Game Previews. The leaks from the closed beta of Pokemon GO reveal that character customization is possible, with players being able to choose the face, hair, gender, eyes and clothing accessories for their character before diving into the virtual world.
The game isn't just a typical mobile cash-in, just in case you were worried that it was. It has a lot of depth, statistics, compendiums for the Pokemon, as well as gym battles. You can collect up to 1,000 different items, as well as catch up to 30 different Pokemon. Based on the Pokedex in Pokemon GO, it appears as if there's definitely more than 30 in the game, so I'm assuming that players can only hold 30 at a time until they can either upgrade their storage or store some of their Pokemon at a databank.
We see that various Pokemon will appear on the map if they're nearby and players have the option of capturing them. This feature gets highlighted with a Porygon and later a Vulpix, both of which end up being captured by the player in an augmented reality capture sequence. The game's 3D alignment with the real world is still a little bit sketchy, but there's an option to change the camera to either use the real world backgrounds or a 3D placeholder background.
As players capture Pokemon throughout Pokemon GO they'll be added to the Pokedex where players can learn more about the monsters, see their abilities in action or train them.
The video only focuses on the traveling, some location interaction and capturing various Pokemon. Unfortunately there's still no gameplay footage of the battle sequences. The only thing we've had is droplets of information from those in the beta who talked about the battles but did not reveal any actual gameplay.
Game Previews mentions in other videos that some leakers have mentioned that the battles will take place in real-time and that the classic turn-based encounters from the Nintendo handheld devices are not being used. Unfortunately there's no details on whether or not this means it's like Pokken Tournament or automated with some light player input to direct what their Pokemon do in the battle.
So far, the reactions for the video above have not been entirely positive. Given that Pokemon GO is for mobile devices it's not surprising that graphically it wouldn't be the best looking game out there, but some felt as if it looked unpolished and unrefined. Others noted that they would wait for more footage since the game is still in beta.
Pokemon GO is due out later this year for iOS and Android smart devices. Developer Niantic is currently holding closed field tests in Australia and New Zealand.
Staff Writer at CinemaBlend.