Wii U Will Support Two GamePads Starting Next Year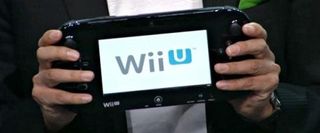 It hasn't been properly explained if the Wii U has firmware in place to limit the console to only one Wii U GamePad or if games simply don't have any recognition for a second pad at all, but Nintendo has confirmed that dual GamePad support for the Wii U's touchscreen device will not be implemented for use in games until next year.
According to 1up [via GameZone] Nintendo of America's Bill Trinen explained why the Wii U won't be launching with games support for more than one Gamepad, saying...
As some of you know, the pad will be sold separately for the system in Japan, as reported by The Verge. How much will an extra pad cost you? In conversion to U.S. dollars, an extra Wii U GamePad will cost you up to $170...yes, let me repeat that so your tongue joins your lower jaw on the floor and say it will cost up to $170.
Why is Nintendo selling extra GamePads in Japan? No one knows. Will there be Japanese games making specific use of the extra GamePads? Well based on the basic launch line-up, not really. But maybe Tecmo Koei's Fist of the North Star 2 will make use of two GamePads? Who knows...anyway, Trinen responds to this in a predictable way, saying...
Well, I imagine it won't be long into 2013 until Nintendo starts selling additional GamePads and newer games emerge that make use of both. If the GamePad really does have such a high price tag attached to it, though, it would explain why the specs on the Wii U are so low and why the basic price sits at $300 for the basic version and $350 for the premium version.
It would probably also be in Nintendo's best interest to make the extra GamePad's available following a Wii U price cut, enabling consumers to pick up the console and an extra pad for a moderate price. But for now it's just speculation as to when the extra GamePads will go on sale outside of Japan and whether or not the Wii U price cut will even happen.
The Nintendo Wii U is scheduled to launch on November 18th in North America and November 20th in Europe.
Staff Writer at CinemaBlend.