Wii's Virtual Console Gets Into Gear With Mario Kart 64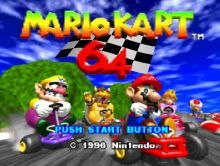 While the press release states that Mario Kart 64 was one of the greatest Mario games of all time, I'm going to go so far to say that it is one of the greatest games of all time. There's never been a cart racing title as engaging or generically fun as Mario Kart 64. And now Virtual Console gamers can re-live the masterpiece that is Mario Kart 64.
It was announced today that the Nintendo Wii is now touting the new Virtual Console addition of one of the greatest cart racing games to-date for only 1000 Wii Points. With over 1.4 million Wii users online and connected, you can bet your bottom dollar that the retro-Mario Kart will be a big hit, again. Joining the Italian plumber-turned-superhero is Soldier Blade for the Turbografx 16 (PC engine).
For more information and details regarding the Nintendo Wii, Shop Channel or Virtual Console, you can visit the Official Nintendo Wii Website.
Staff Writer at CinemaBlend.
Your Daily Blend of Entertainment News
Thank you for signing up to CinemaBlend. You will receive a verification email shortly.
There was a problem. Please refresh the page and try again.