jOG Controller Brings Jogging Fun To Wii And PS2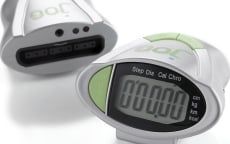 It seems like we can't go a day here at Blend Games without plugging a new controller, device or peripheral for the Wii. In this case, New Concept Gaming, a product design company, is releasing a new device for the Wii and PS2, which allows gamers to control character movement by jogging.
"Obesity is reaching epidemic proportions in the Western world, and many sedentary activities are being blamed, not least playing video games," explains Brendan Ludden, Managing Director, New Concept Gaming. ""jOG is a great way to banish those criticisms, and help gaming be both fun and healthy. We want to make video games good for you!"
It might seem a bit confusing to some readers...how the device works and all that jazz. However, the jOG controller is actually fairly simple in its design and function: gamers plug the jOG up to their controller and attach the reader onto their pants or wrist, as it monitors movement. The more gamers move about (or jog around), it will actually move the character on-screen. This is one of those accessories that would go great with a treadmill. Anyway, the device is currently available for the PS2.
You can find out more about the PS2 version of the jOG by visiting the Official NCG Website, and the special edition of the jOG lite for the Nintendo Wii will be available soon. Be sure to stay tuned in with Blend Games for more news and updates on the latest gaming info and devices.
Staff Writer at CinemaBlend.