2 Guns Director Onboard Michael Douglas-Starring Historical Drama Reykjavik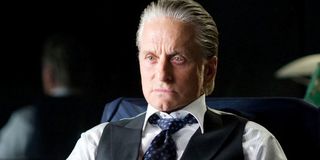 Baltasar Kormakur is building a steady rep in Hollywood. It seemed like he would be the action movie guy for awhile, but it looks as if he's changing course. Similarly, the Michael Douglas-as-Ronald Reagan film Reykjavik has been in search of a director to actually make it. I think you can see where this is going.
Variety reports that Baltasar Kormakur will be directing Reykjavik, the long-in-development historical drama that has had Michael Douglas attached for years. Interestingly, Kormakur's debut film was 101 Reykjavik, which he later remade as the Mark Wahlberg-starring action movie Contraband. Kormakur, not surprisingly, is also from Reykjavik. This sounds is a lot like hiring a guy who makes a movie called Monsters for your Godzilla remake or a man named Webb to helm The Amazing Spider-Man.
Reykjavik deals with the tense meeting between Reagan and Mikhail Gorbachev during 1986's Reykjavik Summit, where the two hammered out a peace treaty during the Cold War and in the wake of the Chernobyl disasters that may or may not have been caused by the events in X-Men Origins: Wolverine (check your history books, kids). Previously, it looked like Christoph Waltz was the number one choice for Gorbachev, but he may have passed on the role. Other directors that have been rumored to helm the film in recent years include Ridley Scott and Mike Newell.
Unfortunately, it sounds like it will still be quite a while until we actually get to see this film. Kormakur is currently at work on Everest 3D, with a cast including Josh Brolin, Jake Gyllenhaal, Sam Worthington, Jason Clarke, Keira Knightley, Robin Wright, Emily Watson and John Hawkes. After that, the filmmaker will be making Vikings, an English-language film based on a script he penned years earlier (we don't know much about the film outside of the fact that it has a very literal title and is based on a tale from old folklore. I'll drink some mead to that!)
This is an interesting role for Michael Douglas, who has dabbled in some pretty adventurous choices as of late. He earned critical acclaim for his performance in the HBO telepic Behind The Candelabra, bringing new insight to Liberace in Steven Soderbergh's last film. And while he's not shying away from the AARP-B.S. of stuff like Last Vegas or the upcoming And So It Goes, he has surprised many by signing on to take the role of an older Hank Pym in the Edgar Wright-directed Marvel Studios blockbuster Ant-Man. Reagan should present its own struggles, particularly because he was in office when Douglas was in his moviestar heyday and the two look nothing alike. The hope is that Kormakur can bring a strong performance out of him, and that the production can secure a reliable co-star to make this a decent two-hander for adult viewers who'd like a bit of a history lesson - specifically from the guy who directed 2 Guns.
Your Daily Blend of Entertainment News
Thank you for signing up to CinemaBlend. You will receive a verification email shortly.
There was a problem. Please refresh the page and try again.