5 Famous Actors Who Have Given Incredible Vocal Performances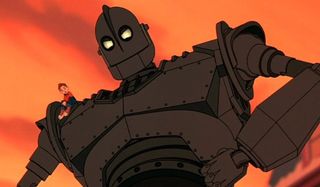 In the last 30 years or so, a major change has occurred in the world of animation. Rather than hiring voice actors for roles, studios have instead opted to go with major celebrities, hoping that their name recognition will help sell their movies to wider audiences. Sometimes this doesn't work out so great, as many actors do little more than use their own natural speaking voice, but there are some important exceptions. There are a number of terrific live-action actors out there who actually excel at doing voice over work. And today we are giving them the recognition they deserve.
With Penguins of Madagascar in theaters this weekend, featuring the talents of Benedict Cumberbatch, John Malkovich, and more, we've decided to highlight a select group of great live-action stars who have proven that they don't need to show their face to put on a special, different kind of performance. Who made the cut? Read on to find out!
Robin Williams
The loss of Robin Williams this year is still heavy in our hearts and a painful loss – but just because the man has passed on doesn't mean we're not going to take the opportunity to celebrate the amazing work he did as a voice actor. Few performers are able to truly transfer all of their energy and personality for a role in an animated movie, and this is once again another instance where Williams can be described with the word "incomparable." The actor was certainly more prolific as a live-action actor, but audiences will not soon be forgetting his parts in Fern Gully: The Last Rainforest, Happy Feet and, of course, Aladdin. For the most part, he didn't exactly go out of his way to disguise his voice, but that in no way undercuts his spectacular performances.
Seth Green
Seth Green came up through Hollywood as a child actor, making his first professional performance when he was just 10 years old. Fans will forever remember him as there werewolf-cursed Oz on Buffy The Vampire Slayer or as the petulant Scott Evil in the Austin Powers movies, but in recent years the redheaded actor has actually been even more committed to his voice work than live action. Not only has he been voicing Chris Griffin on Family Guy for about 15 years, but he's also a creator of Adult Swim's Robot Chicken and has managed to learn how to completely disguise his voice. Case in point: did you know that he was the voice of Howard The Duck in Guardians of the Galaxy?
Stephen Root
It should be little surprise that character actors often make great voice actors, as there are few in the business who are better at completely disappearing into their roles. Stephen Root is perhaps the most perfect example of this. While the actor is best known for his live action work – splitting his time between television and film – his voice-only performances rank s some of his best turns. He has been doing it for years and has a wide array of credits on his resume, from the animated Justice League series to episodes of Adventure Time, but perhaps his most notable credit is as sad sack Bill Dauterive from the long running King of the Hill.
Mark Hamill
Mark Hamill earned his way into our hearts a long time ago in a galaxy far, far away with his legendary performances as Luke Skywalker in the Star Wars films, and while there's a very good chance that it's the role he'll forever be remembered for, his work as a voice actor will likely never be forgotten either. After all, his version of The Joker from Batman: The Animated Series is easily one of the most iconic incarnations of the character. He has far too many titles on his to list here, but it's a credit to his work that you've probably seen a surprising number of his performances without actually recognizing his presence.
Vin Diesel
There are probably few people out there who would identify Vin Diesel as one of the best actors of his generation, as the Fast and Furious movies and Riddick aren't exactly Oscar-caliber works, but the man deserves all the credit in the world for the two feature film voice roles on his resume. Not only did he make us all cry at the start of his career with his turn as the titular metal behemoth in the great The Iron Giant, but just this past summer he was able to express and emote to a shocking degree while only uttering a total of five words playing Groot in Guardians of the Galaxy. These aren't exactly the most complex roles out there, but Diesel truly knocked both out of the park – to the point where it's hard to imagine any other voice doing the parts.
NJ native who calls LA home; lives in a Dreamatorium. A decade-plus CinemaBlend veteran; endlessly enthusiastic about the career he's dreamt of since seventh grade.
Your Daily Blend of Entertainment News
Thank you for signing up to CinemaBlend. You will receive a verification email shortly.
There was a problem. Please refresh the page and try again.