Al Pacino And Scarface Returning To Theaters On August 31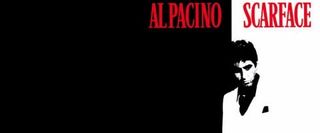 Following in the footsteps of movies like Back to the Future and Memento that have returned to theaters for one night only to celebrate their Blu-Ray release, Al Pacino will have you say hello to his little friend on the big screen one more time at the end of this month. NCM Fathom, the company that arranges special movie events like this all year round, has announced that Scarface will "explode back into movie theaters like never before" on Wednesday, August 31, at 7:30 pm. The screening won't just be of the new restored version of the movie that you'll find on the Blu-Ray, but also a 20-minute special feature including interviews with "popular filmmakers and talent" about the film's enduring legacy. The fact that they don't mention any of those people by name suggests that Pacino and director Brian de Palma aren't part of that feature, but hey, if Pacino is willing to be in Jack and Jill, presumably he's got time for this too, right?
The theatrical run is all part of a promotion for the film's debut on Blu-Ray come September 6, in one of those giant special editions that includes collectible art cards and new bonus content. If you're a true Scarface fan with no fear of lung cancer, you can also invest in "an elegantly hand-crafted Scarface-themed humidor"-- I guess that was a more palatable tie-in purchase than a giant mound of cocaine?
A far cry from the family friendly Back to the Future or the recent success Memento, the hugely violent, R-rated 80s relic Scarface is an odd choice for a splashy theatrical re-release like this, and that speaks to the movie's strange staying power over the years. It made $44 million total when it initially ran in theaters in 1983, just behind Jaws 3-D and Never Say Never Again in the year's box office tally, but has become a cultural icon since then, if judged only by the dorm room walls of freshman college boys who for whatever reason adore Pacino's fierce drug smuggler Tony Montana. Presumably they'll be the ones turning out in droves for this one-night-only event, though I admit I'm curious too-- it's not every day you get to watch a cult film in a house packed with admirers. If you're curious too, you can buy tickets here.
Staff Writer at CinemaBlend
Your Daily Blend of Entertainment News
Thank you for signing up to CinemaBlend. You will receive a verification email shortly.
There was a problem. Please refresh the page and try again.