Alexandre Aja Still Trying To Bring Japanese Manga Series Cobra To The Big Screen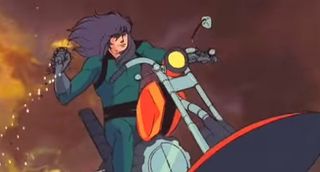 Alexandre Aja is likely best associated with horror. With directing credits that include The Hills Have Eyes, Maniac and Piranha, not to mention the upcoming feature adaptation of Joe Hill's Horns, Aja continues to make a name for himself within the genre. But we learned a few years back that the director has his sights on an ambitious sci-fi project. When we sat down with him at Comic-Con to talk about his work, he gave us an update on his efforts to bring the Japanese manga series Cobra -- also known as Space Cobra, unrelated to G.I. Joe -- to the big screen. From the sound of it, this is a project with a very big budget, and thusly requires a very big star to take the lead.
"It's a huge, huge project. Super expensive. Like $150 million-plus," Aja told us, when we asked what the progress was on the adaptation. "It can only be done with a major movie star and most of them are not available for like five years. So we're still working and trying to make it happen."
Beginning as a manga series, which was later adapted to television in the early 80s, Cobra introduces us to a bored office worker who pays to experience a customized dream. Though he asks to be the king of a harem, the dream he gets thrusts him head-first into an adventure involving pirates, monsters and other thrilling but dangerous scenarios.
Back in 2010, when we learned that Alexandre Aja had obtained the rights to the story and was working with his writing partner Gregory Levasseur to bring Cobra to the big screen with a live-action adaptation, Aja compared the original story to Star Wars, noting that Cobra was much better known overseas than it ever was stateside. If Aja's adaptation can get made, perhaps that would change. But as he notes, the film needs a big star.
With the right actor to headline the film, Cobra would likely stand a better chance of enticing a studio to shell out the $150 million or more it would cost to turn this ambitious project into a feature film. To use a recent example of another manga series that made its way to the big screen -- in this case, one that originated as a light novel -- Hiroshi Sakurazaka's All You Need is Kill was recently turned into a major motion picture, going by the title Edge of Tomorrow. At one point, Doug Liman's adaptation was eying Brad Pitt for the lead, but eventually Warner Bros. signed Tom Cruise.
Aja didn't mention any specific names for who he'd like to see play the role of Cobra, but an A-list actor's involvement could certainly grease the wheels to get this project off the ground.
In the meantime, Aja has a number of other projects coming up, including Horns, which stars Daniel Radcliffe and centers on a man who sprouts a set of horns, which give him the ability to draw people's darkest secrets and intentions from them. The book is great, and Aja describes the film as "a dark version of It's a Wonderful Life."
Also in the works, Aja is producing Gregory Levasseur's horror The Pyramid, which is due out later this year. And he recently revealed that he's working on a TV adaptation of Scanners.
Check out the trailer for Horns after the jump!
Kelly joined CinemaBlend as a freelance TV news writer in 2006 and went on to serve as the site's TV Editor before moving over to other roles on the site. At present, she's an Assistant Managing Editor who spends much of her time brainstorming and editing feature content on the site.
Your Daily Blend of Entertainment News
Thank you for signing up to CinemaBlend. You will receive a verification email shortly.
There was a problem. Please refresh the page and try again.