Tom Cruise To Star In Doug Liman Sci-Fi Flick All You Need Is Kill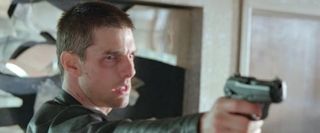 It's been a while since Tom Cruise has been in a proper science fiction movie -- War of the Worlds was back in 2005, and Minority Report before that was in 2002. Now he's diving back into the world of bigscreen speculative fiction with gusto. He's starring in Horizons (formerly titled Oblivion) for director Joseph Kosinski (Tron: Legacy), which is due sometime in 2013. Now Variety is reporting that Cruise will star in yet another SF tentpole movie: Doug Liman's grammatically challenged All You Need Is Kill. He had been considering the role for a while, and apparently is now officially in.
Based on a Japanese graphic novel by Hiroshi Sakurazaka, All You Need Is Kill tells the story of a soldier who is killed while fighting a war against aliens...and then awakens to find himself repeating the same day. The bad news is that he's going to keep getting killed over and over again. The good news is that he's able to carry knowledge and training over to each new incarnation, so he might eventually be able to change his fate. It's a premise that's been used tons of times, from Groundhog Day to the short-lived Taye Diggs TV series Day Break. We haven't seen it applied to this sort of science fiction setting before, however, so All You Need Is Kill might just be worthy of our attention.
Dante Harper originally wrote the script, and must have proven his SF chops to somebody; one of his other projects is the bigscreen adaptation of Isaac Asimov's sprawling Foundation series. Joby Harold (Awake) then did the rewrite that apparently caught Cruise's eye.
All You Need Is Kill should be shooting sometime in late 2012.
Your Daily Blend of Entertainment News
Thank you for signing up to CinemaBlend. You will receive a verification email shortly.
There was a problem. Please refresh the page and try again.