American Sniper's Chris Kyle Just Got A Glorious Corn Maze Tribute Because America, See It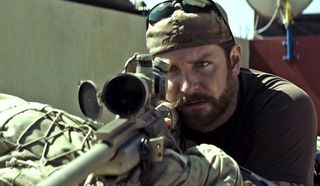 Late last year and well into 2015, Clint Eastwood's American Sniper made quite a stir. It earned a ton of money, garnered all kinds of awards recognition, and got people who don't usually go to the movies to make a pilgrimage to their local theater. The film tells the story of Chris Kyle, the most prolific, lethal sniper in U.S. military history, and now a northern Georgia business has honored the legacy of the man in a way you probably didn't expect: with a corn maze.
As you can see in this photo tweeted by a Fox affiliate in Atlanta, this is not your average corn maze. The seven-acre puzzle, as viewed from above, not only reads "God Bless America" and "Chris Kyle," the creators actually figured out a way to carve a portrait of him into the field of corn. Regardless of your feelings on the man or the movie, or even if you don't have any strong feelings either way, this is definitely an impressive feat. I want to be a fly on the wall on an airplane cockpit as it flies over this and the pilot notices this for the first time. Also, the likeness is kind of remarkable; who knew you could get so specific using a cornfield as your artistic medium of choice?
The maze is located at Corn Dawgs in Loganville, Georgia, and while the establishment is currently closed, they're gearing up for the fall season and will be open to the public starting on September 18. Located roughly 30 miles outside of Atlanta, Corn Dawgs is an "agri-tourism themed adventure park," and wanted to honor a man they call "a true American hero."
In addition to wandering around in a massive, sprawling corn maze shaped like the face of Chris Kyle, there are tons of other activities to enjoy. You can blast away with both corn and pumpkin cannons, play giant checkers, go on a big slide, ride a tractor, and participate in more than 30 family-themed activities.
Released late last year, American Sniper earned almost $550 million worldwide, and garnered star Bradley Cooper an Academy Award nomination for Best Actor, among six other nominations. The film tells the story of the Texas-born Chris Kyle as he joins the Navy, becomes a SEAL sniper, and performs a number of tours of duty in the Middle East. It also chronicles the difficulties he faced when he returned home from war and the troubles he had readjusting to civilian life. He began working with wounded veterans at a local VA hospital, and was ultimately killed at a shooting range by a fellow veteran he was trying to help.
Your Daily Blend of Entertainment News
Thank you for signing up to CinemaBlend. You will receive a verification email shortly.
There was a problem. Please refresh the page and try again.