An Alien: Covenant Character Has Nowhere To Run In This Terrifying New Photo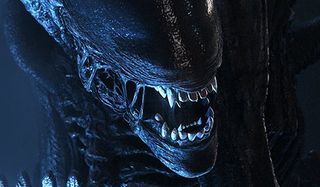 Even though Prometheus wasn't quite to everyone's tastes, you can't help but get excited about Ridley Scott directing another installment to the Alien franchise. To help increase anticipation a tad we've now got a new picture from the set of Alien: Covenant to fawn over. And it instantly evokes memories of what's so great about the franchise's past, thanks to Katherine Waterston's character Daniels who looks to be trapped in a dark and dingy space-craft. You can take it in below.
The good folks working on Alien: Covenant uploaded the above image to their Facebook page, where it was soon accompanied by a myriad of excited comments about the upcoming blockbuster. And it's hard not to instantly smile and excitingly ponder about Alien: Covenant because of this image. Let's start with Katherine Waterston and that tank top, which is reminiscent of the attire that Sigourney Weaver iconically wore in Ridley Scott's Alien all the way back in 1979. All she's missing is Jones the cat.
Just like Weaver in Alien, Katherine Waterston looks both effortlessly sexy and ready to confront and mingle with any individual – be it extraterrestrial, an android, human, or feline – that gets in her way. But the comparisons to Ridley Scott's seminal sci-fi classic don't stop there. I mean, just take a look at Covenant, the film's spacecraft, too.
Like Nostromo – the commercial spacecraft from Alien – it's ruggedly industrial, with scant lighting, exposed metal, and a claustrophobic ambience that is already creepy and imposing. Plus, the foreboding fire raging in the background gets the mind racing about what's going to unfold on the titular colony ship in Alien: Covenant.
While we can only assume so much from one image. It looks as though 20th Century Fox are already trying to play up Alien: Covenant's similarities to Alien. Which is understandable considering that while Prometheus's gross of $403.4 million back in 2012 was just about impressive, fans of the franchise were mostly underwhelmed with its plot and story.
Alien: Covenant will look to address these concerns when it's released on August 4, 2017. And, even though I've been burnt before and know I shouldn't get my hopes up, since it's from Ridley Scott and starring Michael Fassbender and Katherine Waterston, as well as Danny McBride, Billy Crudup, and Demian Bichir, I can't help but think they'll succeed.
Your Daily Blend of Entertainment News
Your Daily Blend of Entertainment News
Thank you for signing up to CinemaBlend. You will receive a verification email shortly.
There was a problem. Please refresh the page and try again.