Anna Faris Gets Kidnapped In Wedding Banned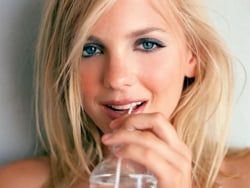 Remember when Robin Williams used to go dramatic? He gave us beautiful performances in Good Will Hunting andDead Poets Society. Hell, I even dug Jakob the Liar. The dude seems to have a good sense of what it takes to dig down deep and pull out a tough performance, even if it doesn't match up perfectly with his comedic persona. Well, with movies like Old Dogs, those days seem to be long gone.
In his upcoming Wedding Banned, Robin Williams will play a husband who teams up with his ex-wife to kidnap their daughter and convince her not to get married. Sounds like a grand old time, right? Now THR reports that Anna Faris has signed on to play the bride-to-be. Jack Amiel and Michael Begler penned the script. These are the guys behind Raising Helen and The Shaggy Dog, so you know it'll be good.
After Observe and Report, I though we could expect more from Faris, but I guess that was expecting a bit much from the girl who signed on to FOUR Scary Movie flicks. That's too bad, as she seems like the kind of actress who's been missing out on potential because she hasn't gotten that one perfect role. She's got a much more promising part in the upcoming comedy TMI with Ryan Reynolds, but I can only give her the benefit of the doubt for so long.
Your Daily Blend of Entertainment News
Thank you for signing up to CinemaBlend. You will receive a verification email shortly.
There was a problem. Please refresh the page and try again.