Anthony Hopkins Set To Play Hitchcock In Making Of Psycho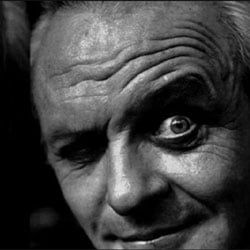 Here's a pretty obvious casting choice: Anthony Hopkins is in talks to play Alfred Hitchcock. Not only does he look almost exactly like him, he's a brilliant actor. It'd be a nearly criminal sin to cast anyone but Hopkins to play the character, so check this off as one of the things Hollywood got right this week.
The film is likely to be directed by Sacha Gervasi, who's probably best known as the documentarian behind the splashy Anvil! The Story of Anvil. The movie's called Alfred Hitchcock and the Making of Psycho, based on a 1998 non-fiction book of the same name. As the title suggests, the movie will focus on Hitch during the specific period of his life when he made his most famous movie, which at the time, no studio wanted to finance. Also deeply involved in the story will be the relationship between Hitch and his wife Alma Reville. I guess that's a good idea though I'd love to know what was going through his mind when he made The Birds.
THR broke the news of Hopkins' involvement and says that while he is the choice of the film's higher ups at Montecito and while he indeed wants the part, they're still working out the terms of his deal and pouring over the script.
This is actually the second time Anthony Hopkins has been slated to play the pot-bellied suspense master. Back in 2007 he was rumored to be attached to an Alfred Hitchcock project called Alfred Hitchcock Presents, being directed by Ryan Murphy. That went nowhere, and here we are again predicting Anthony Hopkins as the man behind Alfred's famous silhouette.
Your Daily Blend of Entertainment News