Audio Blog: Is True Grit A Prestige Movie, Or Just A Good One?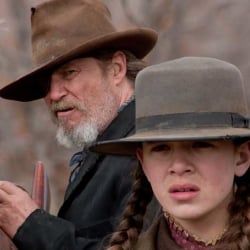 Yes, 'tis the season for boughs of holly and cramped flights to visit faraway relatives, but it's also Prestige Movie Season, that time of year when studios carefully calibrate release dates for their best films in order to score the maximum amount of critical acclaim and, eventually, Oscar nominations. Prestige Movie Season, or Awards Season if you're feeling concise, kicks off in late September and culminates around Christmas; this year things started in earnest with The Town and wrap up this week and next with the likes of Blue Valentine, Another Year, Rabbit Hole, Somewhere, Black Swan, The King's Speech either trickling into limited release or expanding wider.
Looming large among all of those movies is True Grit, the new Western from the Coen Brothers with all kinds of awards-friendly elements to it-- starring recent Oscar winners Jeff Bridges and the Coens themselves, adapted from the same book that gave John Wayne his only Oscar-winning role, and also starring Matt Damon, the single movie star pretty much all of us can agree on. But while True Grit is a very good movie, maybe even a great one, it's not necessarily what you expect from a Prestige Movie Season release. That's usually a good thing for moviegoers-- it's more entertaining and accessible than you might suspect-- but maybe not based on the way that awards season positions the film as an awards season must-see, and not just a good movie that's worth you time.
To talk about this issue about what defines a "prestige" movie, plus our thoughts on True Grit itself, I got on the phone with familiar podcast pals Matt Patches and David Ehrlich, both of whom liked the movie just fine but not nearly as much as I did (it sits at #5 on my top ten of the year). Take a listen to our 30-minute conversation, augmented by sections of the spectacular True Grit soundtrack, and be warned-- around the 25 minute mark you'll hear a clip of music, and after that we discuss a few spoiler-ish things about the film's ending that you might not want to hear until you've seen it for yourself.
As always, let us know if you like what you hear. Find me (@kateyrich), Matt (@misterpatches) and David (@davidehrlich or @CriterionCorner) on Twitter. We'll be back next week along with fellow podcaster Dave Gonzales to go through our top ten films of the year, including one last fight over 127 Hours and a little more True Grit discussion too.
CLICK TO STREAM OR DOWNLOAD AUDIO FILE
Staff Writer at CinemaBlend