The Coen Brothers Directed A Super Bowl Commercial, And It's The Coolest Thing Ever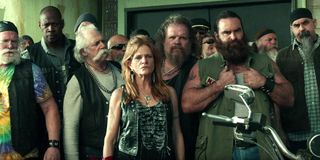 The Coen Brothers are widely considered two of our foremost filmmakers today, so if they set out to make a commercial, you know it's going to be something special. Well, the duo made a Super Bowl commercial, and it's pretty damn cool. Check it out.
Ah, that's pretty damn quirky, cool and still classy enough to be a Mercedes commercial, isn't it? The Coen Brothers did, as one could expect by now, a fantastic job creating an ad that would get us interested and keep us watching to see just what was being advertised and how it would fit in with a rowdy biker bar. And, really, how often have you seen a better looking commercial than this? I hope the other Super Bowl commercials have really stepped up their game this year, because there's a chance that this ad will end up being one of the most talked about just on looks alone.
The commercial, titled "Easy Driver," showed up on the Mercedes-Benz YouTube page and was shot to promote the Mercedes-AMG GT Roadster, a car so cool that even a group of drunk and probably easy to anger bikers wouldn't dare touch it if it had blocked them all in in the parking lot. It starts off simply enough, with a somewhat vision challenged member of the motorcycling community deciding to play "Born to be Wild" by Steppenwolf on the bar's jukebox, not that he actually had much choice in that.
The relatively sedate activities of the patrons then kick into high gear, with arm wrestling matches, head-butts and an intense face pushing match getting interrupted by word that all their bikes are blocked in. Of course, all the building anger in the bar turns on the assumed jackass who ignored those bikes and a large group of men and women rush outside, only to be confronted by one of the coolest convertibles they've probably ever seen. And, who's the lunatic that blocked them in? Well, it's none other than Mr. Easy Rider himself, Peter Fonda. Seeing as how a poster of him from the movie is up in the bar, and one of the bikers who's now standing outside has a tattoo of him on his bicep, they let him roll on down Route 66 and flash a peace sign to the world.
The Coen Brothers made sure this ad really had everything you'd want in a Super Bowl commercial: it's a little bit weird, it's funny, there's a cool product being sold and it's got a nice surprise ending. Who would have thought, going in, that we'd get to see Peter Fonda in this commercial? With these commercials now almost as big of a deal as the game itself, companies have been known to bring in big names to get ads that will get people talking about their products. The Coens have just joined the group of well-known directors who've also helmed Super Bowl ads, which includes talents like Ridley Scott, Zack Snyder, Jon Favreau, Clint Eastwood and David Fincher.
You can, obviously, catch the commercial again when it airs sometime during Super Bowl LI on February 5. And, if you're wondering about the Mercedes-AMG GT Roadster, it's scheduled to hit showrooms this fall.
Yennefer's apprentice, Gilmore Girl; will Vulcan nerve pinch pretty much anyone if prompted with cheese...Yes, even Jamie Fraser.
Your Daily Blend of Entertainment News
Thank you for signing up to CinemaBlend. You will receive a verification email shortly.
There was a problem. Please refresh the page and try again.