No Country For Old Men: 10 Behind The Scenes Facts About The Coen Brothers Classic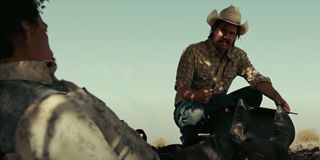 No Country For Old Men will forever go down as one of my favorite movies. From the first time I went in blind to a screening on Thanksgiving Eve in 2007 (and about four or five additional viewings in theaters) I was hooked by the Coen Brothers mastery of the tone and narrative of Cormac McCarthy's novel of the same name. Since that fateful night, I've been obsessed with everything about the modern day western with hints of film noir. From interviews with the filmmakers and cast to just about every review I could find, I wanted to know every single detail and all of the behind the scenes facts of how it all came together.
So, just imagine how excited I was when given the opportunity to take a deeper dive into the making of one of my favorite movies of all time. Through this project, I was able to dig up information on everything from the casting to the shooting, and figure out what all went behind the character of Anton Chigurh, one of the most ruthless characters in cinematic history.
Quentin Tarantino And Robert Rodriguez Helped Josh Brolin Film His Audition Tape
Josh Brolin was a star in his own right in the '80s with hits like The Goonies and Thrashin', but the one-day Marvel star was in a bit of a career downturn by the time he was cast as Llewelyn Moss in No Country For Old Men. How the former heartthrob turned his career around is quite the funny story, especially when you consider the two big named filmmakers who helped him get cast in the Coen Brothers classic.
While sitting down with The Hollywood Reporter ahead of the release of Hail, Caesar!, Josh Brolin explained that he was on the set of Grindhouse when he found out about the project and wanted to audition when Quentin Tarantino and Robert Rodriguez heard about it, stating:
I guess you can thank two of the most prolific American filmmakers for Josh Brolin's mid-2000s career resurgence.
Josh Brolin Broke His Collarbone Before Production Started, But It Actually Worked Out For The Plot
After Josh Brolin went through the whole process of getting the part of Llewelyn Moss, he had a freak motorcycle accident on the way to a wardrobe fitting that resulted in the actor breaking his collarbone. Brolin revealed this little tidbit of information during a 2007 round-table interview (via Collider), where he also explained that he attempted to minimize the severity of the injury so that he didn't lose the role, stating:
Despite not losing his gig, Brolin explained that the whole process was a pain, especially the scene where he has to float down a river while being chased by a dog.
Garret Dillahunt Auditioned For The Llewelyn Moss Role A Total Of Five Times
Garret Dillahunt ended up with a small role as Wendell in No Country For Old Men, but he was up for the role of Llewelyn Moss before Josh Brolin was ultimately cast in the role. But it wasn't a one audition type situation as the future Fear The Walking Dead star revealed in a 2011 interview with AV Club, stating:
It seems that it worked out for Garret Dillahunt as the actor has gone on to have starring roles in Raising Hope, The Mindy Project, and dozens of other television and film projects.
The Coen Brothers Felt That Tommy Lee Jones, A Texas Native, Brought Authenticity To The Film
In addition to the stellar casting of Josh Brolin as Llewelyn Moss and Javier Bardem as Anton Chigurh (don't worry, much more on him later), No Country For Old Men is anchored by a riveting performance by Tommy Lee Jones as Sheriff Ed Tom Bell. This quiet, yet profound performance by the elder actor ties much of the movie together and brings a level of the believability to movie, which is something that Ethan Coen thought the role needed, as he and his brother Joel told The Guardian in 2007:
With qualities like that, it should come as no surprise that Tommy Lee Jones gave one of the best performances of his career in No Country For Old Men, even if his ending monologue was a little ambiguous.
No Country For Old Men And There Will Be Blood Shared A West Texas Town During Production
Leading up to the 80th Annual Academy Awards in 2008 there was a great deal of the buzz surrounding the Coen Brothers' No Country For Old Men and Paul Thomas Anderson's There Will Be Blood to see which of the big two movies would take home the most gold. The Coen Brothers film took home awards for Best Picture, Best Director, Best Adapted Screenplay, and Best Supporting Actor (I promise, we'll get to Javier Bardem), with PTA's epic tale of a crazed oil tycoon taking home Best Actor and best Cinematography. But the two films' paths didn't cross at the Oscars for the first time.
While the lion's share of No Country For Old Men was shot in Las Vegas, New Mexico, several weeks of the production were spent in the small West Texas town of Marfa, which also happened to be the shooting location for much of There Will Be Blood. A 2008 article in the Times Herald-Record profiling the small town's role in a number of Hollywood productions revealed that at times, both shoots were no more than a few miles apart from one another. Here they were, two of the most beloved films of the past 20 years, being created just miles from each other.
Javier Bardem Told The Coen Brothers He Hated Violence And Was Uncomfortable Speaking English
Javier Bardem was already an established actor in his own right before being cast as the emotionless and ruthless Anton Chigurh in No Country For Old Men, but the Spanish actor became a superstar for the role that earned him an Academy Award for Best Supporting Actor. But by watching his performance time and time again, the thought that Bardem didn't like violence and didn't have a mastery of the English language never would have crossed your mind. Well, about that.
During a 2008 interview with The New York Times, Bardem revealed that the role was quite a departure from those he was used to taking up to that point and that he told the Coen Brothers that he didn't have experience with firearms, didn't drive, and was uncomfortable speaking English:
Javier Bardem Felt Anton Chigurh's Iconic Haircut Added Another Dimension To The Character
Besides the cattle bolt and icy cold demeanor that this character carries around throughout No Country For Old Men, the key characterstic of Anton Chigurh is his trademark haircut. Upon the release of the film it was all anyone could say about the hitman on a mission. Even Javier Bardem was initially taken aback by the cut, but the actor would go on to feel that it added another dimension to the character, as he told Collider in 2007:
A Psychological Study Named Anton Chigurh The Most Realistic Movie Psychopath
Javier Bardem was so convincing at playing the methodical Anton Chigurh that the character ended up becoming the poster-child for movie psychopaths. In 2018, Business Insider reported that Samuel Leistedt, a Belgian psychiatry professor wanted to find out which movie characters best embodied the characteristics of a psychopath.
Starting in 2014, Leistedt and a group of 10 friends watched a total of 400 movies and studied more than 120 characters before they came to the conclusion that Javier Bardem's portrayal of Anton Chigurh was the most realistic depiction of a psychopath in a movie released between 1915 and 2010. Citing his invulnerability and resistance to emotion or basic humanity, Chigurh beat out a list of some of the most deranged in cinematic history.
The Role Of Anton Chigurh Almost Went To Mark Strong
With any movie as well-known as No Country For Old Men, there are going to be plenty of what-ifs in the casting department. The role of Anton Chigurh is no different as Mark Strong revealed in a 2008 interview with Digital Spy that he was one of the final choices for the role that ultimately went to Javier Bardem, stating:
Strong, who would go on to show up in movies like Sherlock Holmes, The Kingsman, and 1917, but it seems like he was this close to showing up in No Country For Old Men, especially when a scheduling conflict almost forced Javier Bardem out of the picture.
Cinematographer Roger Deakins Shot The Film In A Way That Didn't Sensationalize Or Downplay The Violence
Roger Deakins is no stranger to effectively balancing beauty and violence in the films where he has served as the cinematographer, just look at the fantastic 1917 (which earned him another Academy Award in 2020). Finding that balance is crucial to all of his pictures, including No Country For Old Men, where the acclaimed director of photography worked with Joel and Ethan Coen to create the look and feel the directors were shooting for, as he told Rotten Tomatoes in 2008:
Even though No Country For Old Men is an extremely violent movie, the matter-of-fact presentation of that violence does not come off as over-the-top and unnecessary as other pictures released in recent memory. I guess we have a group of masters of their respective crafts to thank for that.
There you have it, 10 facts about the making of No Country For Old Men. It's amazing to see how much care and consideration was put into creating one of the most well-received films of the past 20 years. If this piece has you all geared up for Josh Brolin, check out what we've written about the actor's involvement in the upcoming Dune remake.
Your Daily Blend of Entertainment News
Philip grew up in Louisiana (not New Orleans) before moving to St. Louis after graduating from Louisiana State University-Shreveport. When he's not writing about movies or television, Philip can be found being chased by his three kids, telling his dogs to stop yelling at the mailman, or yelling about professional wrestling to his wife. If the stars properly align, he will talk about For Love Of The Game being the best baseball movie of all time.
Your Daily Blend of Entertainment News
Thank you for signing up to CinemaBlend. You will receive a verification email shortly.
There was a problem. Please refresh the page and try again.