That Time George Clooney Bombed His Singing Audition For O Brother, Where Art Thou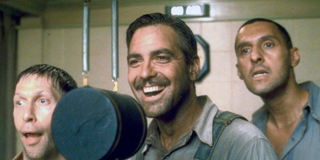 To be a talented actor is one thing, but to be a talented actor and singer is something else entirely. It's less common these days for actors to be expected to sing in addition to act, with rare exceptions, of course. Despite having access to technology that allows actors to have their characters' singing voice be recorded by professional singers, some still like to take a crack at it the old-fashioned way. Sometimes it works; just look at Bradley Cooper's performance in A Star Is Born. Conversely, not everyone can be as lucky, or talented, in the singing department as Cooper. George Clooney found out as much when working on the Coen Brothers' O' Brother Where Art Thou, where he bombed his singing audition.
In the film, George Clooney's character, Ulysses Everett McGill, takes advantage of a blind radio station manager to sing into a can for money, (the inner workings of the recording studio remained an arcane mystery to some of McGill's companions). Thus, the Soggy Bottom Boys had their first record deal. Clooney took this opportunity to try and use his actual voice for the scene, in which the band of convicts sing "Man of Constant Sorrow." He quickly found out that sometimes singing, like many other talents, don't always run in the family. As the actor told Variety:
In his interview, George Clooney hilariously noted that the sound of his own voice sounded like a cat caught between a rock and a hard place. At least he was able to take it in stride after listening to his voice.
The Coen Brothers eventually went with folk artist Dan Tyminski for McGil's singing scenes. "Man of Constant Sorrow," along with the majority of the music in O Brother, Where Art Thou, is based on Depression-era folk tunes and Americana. The song actually generated some awards buzz, as it won Single of The Year at the 35th annual Country Music Awards, and even spent some time on the Hot Country & Singles Billboard music chart.
All of this is to say, I doubt George Clooney's cat-like vocals would have had as significant of an impact as Dan Tyminski's performance. Clooney did nail it in the acting department, though, earning a Golden Globe nomination for Best Actor. O Brother, Where Art Thou went on to receive two Academy Award nominations to boot.
George Clooney has since collaborated with the Coen Brothers on 2008's Burn After Reading and 2016's Hail Caesar, with the latter seeing him play Baird Whitlock, a depressed and drug-addled leading man out of old Hollywood. Notably, Clooney's character did not have a singing scene this time around.
George Clooney recently starred in Netflix's The Midnight Sky, a sci-fi drama that relies on his acting over his singing. As for the Coen Brothers, Joel's next project is a Macbeth adaptation starring Denzel Washington expected for later this year. For the full list of upcoming movies, check out CinemaBlend's 2021 release schedule for the latest on this year's slate.
Your Daily Blend of Entertainment News
Into tracksuits by Paulie Walnuts, the Criterion Channel and Robert Eggers.
Your Daily Blend of Entertainment News
Thank you for signing up to CinemaBlend. You will receive a verification email shortly.
There was a problem. Please refresh the page and try again.