Fargo: 10 Behind-The-Scenes Facts About The Coen Brothers Movie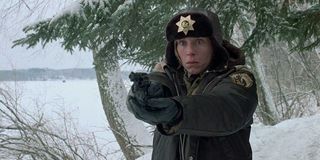 (Image credit: Gramercy Pictures)
Fargo is turning 25 years old in 2021, don't ya know. The classic Coen Brothers movie that stars Frances McDormand, William H. Macy, Steve Buscemi and more is beloved by many for its memorable characters and mix of dark humor set against the snowy white backdrop of Minnesota. That love has been extended to include four seasons of the popular FX series Fargo. But here, we're going back to the 1996 original for some behind-the-scenes facts about how Fargo became the crime classic it is today.
Fargo Was Shot During One Of Minnesota's Warmest Winters
One of the most iconic things about Fargo is its setting - the snow-covered terrain of Minnesota. With filming scheduled to take place in the heart of winter, I'm sure snow was something that Joel and Ethan Coen thought that they would have plenty of to work with. Mother Nature, however, was not ready for her close-up.
Many of the film's stars and crew, including William H. Macy and frequent Coen Brothers cinematographer Roger Deakins, said in interviews that snow often eluded the shoot, as Minnesota was experiencing one of its warmest winters on record. The production kept traveling further and further north to find some snow, trucking some in or using snow-making equipment, according to Macy. Macy also said that in one scene he had to drink hot tea so that his breath would be seen.
However they did it, the white landscape covering most of the film is striking and one of its best calling cards.
Fargo Was Almost Called Brainerd
Fans love to dig deep into many of the hidden meanings in Coen Brothers movies, from Barton Fink to The Big Lebowski, O Brother, Where Art Thou to A Serious Man. Fargo is no exception, with one particular interest being the film's title.
Fargo is a city in North Dakota, which during the opening scene of the movie William H. Macy's Jerry Lundegaard goes to meet Steve Buscemi and Peter Stormare's criminals to set his kidnapping scheme into motion. That is the only sequence that actually takes place in Fargo the entire movie.
Many fans have posited theories, including one Redditor who offers a very philosophical possibility that the title is a metaphor for a place outside your normal existence that changes your life.
The answer may be simpler than that. During an interview with Charlie Rose in promoting Fargo, Joel and Ethan Coen essentially say that the title choice was between Fargo and Brainerd, the two most important locations in the film in their opinion. They thought Fargo sounded better.
The Coens Insisted That The Film Was Indeed Based On A True Story
Fargo opens with the text "This is a true story" of events that took place in Minnesota in 1987, with names changed but the events occurring as they happened "out of respect for the dead." The Coen Brothers were sticking to that story all the way through filming and promoting the movie.
In the Charlie Rose interview mentioned above, the Coens confirmed that they did base the film on real events, and they would do the same in a number of different interviews.
In actuality, while the film does take bits and pieces that are similar to actual murder cases, the events of the film and the characters have long been confirmed as fictional. But the creative choice, and possibly their commitment to the bit for an extended period, gives the film its uniqueness, something that has been continued in the FX TV series. It also inspired the independent film Kumiko, the Treasure Hunter.
Carter Burwell's Score Was Inspired By A Norwegian Folk Song
Carter Burwell is one of the most prolific film composers working today and has long been a staple of Coen Brothers films - he has scored every one of their films except O Brother, Where Art Thou and Inside Llewyn Davis. For Fargo, he opted to find inspiration in another snow-filled land from which many in Minnesota have roots.
In a Vulture article looking back at his most iconic scores, Burwell recalled what inspired him for Fargo:
Surprisingly, despite all of his work with the Coens, neither of Burwell's two Oscar nominations come from any of their collaborations.
Bruce Campbell Makes A Cameo Via An Old Soap Opera
Bruce Campbell, best known as the star of cult classics The Evil Dead and Army of Darkness, is not unfamiliar with the Fargo franchise. He had a cameo in the show's second season as Ronald Reagan while he was campaigning for president. However, to eagle-eyed viewers, he actually shows up in the movie Fargo thanks to an old TV set.
After kidnapping Jean Lundegaard and transporting her to their cabin hideaway, Carl and Gaear attempt to pass the time by watching some TV. But the only thing that appears to work is an old soap opera. Gaear becomes hooked to the soap, or perhaps to its charismatic leading man, who happens to be none other than Bruce Campbell in Generations.
According to The Atlantic, Campbell hoped to be in Fargo, but the only way was by donating some "bad footage," which he was happy to do.
Prince Nearly Had A Cameo In The Movie
Another interesting cameo story surrounds one of the Coen's contemporary Minnesota legends, Prince.
The symbol that Prince often used as his logo appears in the credits as one of the victims in the field in the triple homicide that occurs early in the movie. The body is not Prince, however, but rather storyboard artist J. Todd Anderson.
However, Peter Stormare told Huffington Post that Prince was angling to show up in a small part for Fargo:
Steve Buscemi and Peter Stormare Got Pulled Over In Real Life During Filming
The triple murder that starts the whole bundling of the kidnapping central to Fargo's plot is set off when Buscemi and Stormare's characters Carl and Gaear get pulled over by the police with Jean tied up. According to Stormare, life would imitate art for the two actors that very night.
Detailing it for Huffington Post, Stormare says that after shooting the cop killing scene, the crew decided to get some early morning pancakes. Buscemi drove his costar, but Stormare says he wasn't the best driver. Buscemi apparently missed the turn for the restaurant, performed an illegal U-turn and then went down a one-way street. Cops saw this and pulled them over.
Just like in the movie, Buscemi is not able to provide the officer the car's registration because it is a rental. Thankfully the similarities end there.
Stormare says that somehow Buscemi managed to get out of the situation without a ticket, though they were baffled by it all, wondering if it was a prank by the Coens. It was not.
William H. Macy Threatened To Shoot Ethan Coen's Dog To Get His Part
Actors will often go to great lengths to get a part. William H. Macy was no different as he pursued the role of Jerry Lundegaard, even going so far as to (jokingly) threaten Ethan Coen's puppy.
Macy has detailed his audition process for Fargo multiple times. It essentially breaks down like this: At first he was reading for a small part as an officer interviewing Jerry, though he was immediately drawn to the character of Jerry. The Coens liked what he did and asked if he wanted to read for Jerry. Macy said "yeah," read the part and got a call back for the next day. He impressed the brothers again in the call back, but found out that they were going to New York to audition more actors. So Macy hops on a plane and crashes the audition, telling the brothers essentially they will screw up their movie if they don't give him the part of Jerry. Then he took it a step further:
Perhaps the play to the Coen's dark sense of humor was what won them over, but Macy proved inspired casting. He earned an Oscar nomination for Best Supporting Actor and it was the part that really got his career rolling to what it is today.
The Reason Joel Coen Is The Only Credited Director
The Coen brothers are a duo. However, until they made The Ladykillers in 2004, Joel Coen was the only credited director on all of their films; they would share writing and producing credits, though. But everyone who worked with them knew that the directing of their movies was a partnership, so why did it take so long for Ethan to get his due? Thank the Directors Guild for that.
In 1978, the DGA put in a provision into its collective bargaining agreement with studios that there be only one director assigned to direct a motion picture at any given time. Directing duos could apply for a waiver of this rule, however, the DGA says the Coens never did until The Ladykillers, instead opting to let older brother Joel take top billing.
They've been using the co-directing credit since 2004, and the DGA rule is now defunct. We are however, getting a solo Joel Coen-directed film in the near future, an adaptation of Macbeth.
Edie Falco Starred In A '90s Fargo TV Pilot
I've mentioned FX's Fargo TV series a few times in this post already, but that was not the first time that an adaptation of the movie made its way to the small screen.
In 1997, Edie Falco was cast to lead a Fargo pilot that would follow Marge Gunderson (Falco replaced Frances McDormand), still pregnant as the story picks up about a month after the events of the movie. The Coen brothers had nothing to do with the show.
Ultimately, nothing came out of the pilot. It didn't even air on TV until 2003 as a TV movie. The more recent Fargo TV series did get the approval of the Coens - they serve as executive producers - and has aired for four seasons.
Fargo officially turns 25 on April 25. Celebrate with a rewatch or see where it ranks in my fellow CinemaBlend writer's ranking of their entire filmography (minus The Ballad of Buster Scruggs).
D.C.-based cinephile. Will dabble in just about any movie genre, but passionate about discovering classic films/film history and tracking the Oscar race.
Your Daily Blend of Entertainment News
Thank you for signing up to CinemaBlend. You will receive a verification email shortly.
There was a problem. Please refresh the page and try again.