Black List Script When The Street Lights Go On Gets Director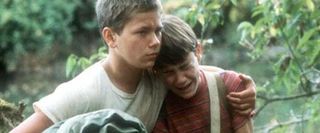 Each winter, before award season hits its fever pitch, we are offered an insight into what could be the season's future contenders thanks to the release of The Black List, a compilation of the scripts that are deemed extraordinary by Hollywood execs, and yet are presently unproduced. Past Black List offerings include such Oscar winners as The Social Network, The King's Speech, and Inglourious Basterds, so scoring a coveted spot on the List insures a project substantial buzz. In the case of Chris Hutton and Eddie O'Keefe's When The Street Lights Go On, this has led to the 1980s-set crime drama becoming the latest screenplay to be plucked from the List and put into production.
Though early reports had Whip It-helmer Drew Barrymore attached to direct When The Street Lights Go On, Deadline reveals Anonymous Content, the production company behind Winter's Bone and The Beaver, has signed noted documentarian Brett Morgen to helm the drama, which is expected to shoot this year. Morgen, who may be best known for co-helming the cheeky Robert Evans bio-doc The Kid Stays in the Picture, will make his narrative directing debut on this tragedy-centered tale.
Said to be similar to Rob Reiner's dark coming-of-age drama Stand By Me, When The Street Lights Go On focuses on a teen boy who becomes fascinated and ultimately fixated on the mystery surrounding the recent murder of a local girl. Morgen, who is currently in production on documentary celebrating the 50th anniversary of The Rolling Stones, seems sure to bring a frank yet sleek sensibility to the this story. And while I personally found Whip It to be poignant and unfairly underseen, it sounds like Morgen may be the better choice for this particular project.
All the same, let's hope Barrymore returns to the fray of filmmaking soon.
Your Daily Blend of Entertainment News
Staff writer at CinemaBlend.
Your Daily Blend of Entertainment News
Thank you for signing up to CinemaBlend. You will receive a verification email shortly.
There was a problem. Please refresh the page and try again.