Blackbeard Scowls In New Pirates Of The Caribbean Character Poster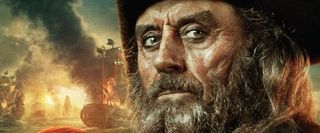 Wrapping up a week in which we've seen individual posters for nearly every major character in Pirates of the Caribbean: On Stranger Tides, the villainous Blackbeard is taking the focus today in the new poster you can see below. In similar style as the posters that featured Jack Sparrow, Penelope Cruz's Angelica and Geoffrey Rush's Barbossa, this one is the most interesting because, come on, Blackbeard is a total badass.
Played by Deadwood star Ian McShane, Blackbeard is the major baddie of the new movie (unless you count the zombies), captaining the Queen Anne's Revenge when Angelica forces her former flame Jack Sparrow on board. As the plot description puts it, "Jack finds himself on an unexpected adventure in which he doesn't know whom to fear more: Blackbeard or Angelica, with whom he shares a mysterious past." From the looks of this poster Blackbeard is by far the one I'd be most afraid of, but it's your call. Check out the poster below and learn everything else you need to know about Pirates of the Caribbean: On Stranger Tides in our Blend Film Database.
Staff Writer at CinemaBlend
Your Daily Blend of Entertainment News
Thank you for signing up to CinemaBlend. You will receive a verification email shortly.
There was a problem. Please refresh the page and try again.