Cars 2 Teaser Trailer Shoots Mater With Lasers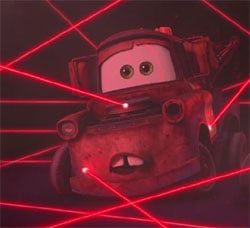 Cars doesn't get a lot of respect from a certain kind of Pixar fan, they dismiss it for its similarities to Doc Hollywood, but if you can get past the animation studio's most successful film also contains some of their most transcendent moments. Sure it's about cars and that seems kind of silly, even for Pixar, but there's this undercurrent of longing and affection for the vanishing landscape of the American road. That wistful longing for small towns and lonely trips down Route 66 is beautiful.
You probably won't see any of that in the sequel, Cars 2, since the movie takes the characters to Europe and the movie's first teaser trailer promises that somehow, Lightning McQueen and Mater are about to become secret agents. I trust that Pixar will come up with something equally meaningful to build their movie around, but in the meantime here's the first ever Cars 2 teaser trailer:
This trailer is actually a little less weird than it might seem. Pixar actually released a similarly themed trailer for the original Cars film, though it was more automotive centric and didn't promise secret agent stunts. I'm sure we'll get a proper trailer, in due course. In the meantime here's a host of new, utterly beautiful concept art released through the movie's official website.
Your Daily Blend of Entertainment News
Thank you for signing up to CinemaBlend. You will receive a verification email shortly.
There was a problem. Please refresh the page and try again.