Chevalier Back In Front Of Darjeeling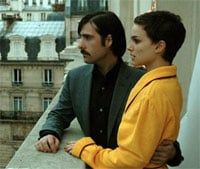 Good news if you've held out on seeing The Darjeeling Limited. This weekend the film will finally be shown in theaters the way it should have been from the start: With Wes Anderson's Natalie Portman starring short Hotel Chevalier attached to it.
The short film, which has gotten a lot of buzz because it prominently displays Portman's rather lovely derriere, was shown before Darjeeling at film festivals and press screenings. For it's initial theatrical release, Chevalier was snapped off and thrown up online, where people could download it for free before seeing the rest of the movie Chevalier-free in theaters. I'm sure their intention was to start some sort of viral marketing buzz, but what they actually did was ruin Darjeeling, since there are parts of the film that simply don't make any sense without the short to set things up.
Well now it's back. Fox tells us that starting Friday you'll be able to see Natalie Portman and Jason Schwartzman in Hotel Chevalier before all showings of The Darjeeling Limited. By the way, in addition to all the lovely Portman partial-skin, Chevalier is actually also really really good. If you saw Darjeeling without Chevalier, I'd suggest asking for your money back. It's kind of like the iPhone price drop, only nobody's handing out rebate coupons.
Your Daily Blend of Entertainment News