Christian Bale Kills Pablo Escobar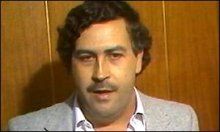 Some people dream of a house with a picket fence or floor seats for the Phoenix Suns. Producer Bob Yari dreams about Pablo Escobar. He's been trying to get a film made about the dead drug lord for more than five years. Now, according to Variety, things are moving full speed ahead. Javier Bardem and Christian Bale could star next year in Killing Pablo, a title which sort of gives away the ending in my opinion.
Killing Pablo is scheduled to be directed by Joe Carnahan (Smokin' Aces and would feature Bardem as Escobar and Bale as Delta Forces Major Steve Jacoby, who led the U.S. military/CIA/DEA hunt for Escobar in 1992 and 1993. It is based on a book by Mark Bowden called "Killing Pablo: The Hunt for the World's Greatest Outlaw." Escobar was the head of the Medellin drug cartel in the 1980s, making him one of the richest men in the world.
Yari pretty much pops a woody when he talks about the movie. "This has been a passion project of mine for years, and it will be a tentpole for our company." It sounds like a standard good guy hunts bad guy scenario, but the casting is certainly top-notch. If the looming strike doesn't happen, shooting will commence in June 2008.
Your Daily Blend of Entertainment News