Comic Con: Sam Raimi Planning Evil Dead 4!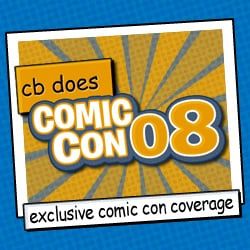 Whoah! Given the sequel and remake frenzy that's been taking over Hollywood in the last few months-- OK, years-- it's amazing this bit of news from Sam Raimi hasn't shown up anywhere before now. At Comic Con today Raimi announced that Evil Dead 4 is "in the wheelhouse. He even went so far as to say that he and his brother Ivan would be getting together this next week to work on it-- that is, assuming Raimi can get past the hordes of excited fans.
Raimi has talked a lot about doing a Spider-Man 4 constantly since Spider-Man 3 made so much money, and I think everyone would have expected that it would be the next sequel on Raimi's plate. He's got a lot going on right now, directing Drag Me to Hell and scheduled to adapt a Dennis Lehane novel as well as revive the Jack Ryan series of movies. So Evil Dead 4 may be a long way off, but that's one heck of a carrot to dangle in front of fans who have gotten bored watching Raimi follow Spiderman all over the skies.
Hopefully we'll hear more details about this one the Comic Con madness had died down, and our trusty correspondents may have more info as well. Keep checking back, and get ready for those zombies!
Your Daily Blend of Entertainment News
Staff Writer at CinemaBlend