Cool Tumblr Blog Puts Movies Their Place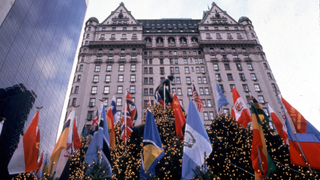 (Image credit: Evan Agostini / Contributor)
One of the many joys of being a cinephile living in New York City is seeing your chosen home splashed across movie screens in all its complicated glory, peppered with moments of "I know that block!" recognition. Another is the reverse: those thrilling moments when you're ambling along and are struck with an unearthly sense of déjà vu. You pause, quickly check your surroundings and think, 'I have not been here before, but…I know this place." Well, a new blog just made spotting these locales easier while celebrating the place movies literally hold in New York City.
FILMography is constructed entirely of photos like the ones below that snag a frame from a film and place it on location. Writer Christopher Moloney is the dedicated photographer behind this enchanting series of snapshots that serve as an incredible reminder not only of the city's timeless appeal but also of the wide range of stories that have played across its landscape, from North by Northwest, to Taxi Driver, Home Alone 2: Lost in New York, Leon: The Professional and Ghostbusters.
But it's not all about NYC. Turns out Mr. Moloney is quite the world traveler, getting snaps from such far flung destinations as Bangkok, Thailand where The Hangover Part II shot:
Or Ho Chi Minh City, Vietnam, where the Oscar-nominated adaptation of Graham Greene's novel The Quiet American lensed:
And exotic Chicago, Illinois, where the chilling Richard Gere-fronted thriller Primal Fear shot in part:
You can check all of Moloney's movie-centered photos out at FILMography, but be warned: these pics are addictive.
Your Daily Blend of Entertainment News
Staff writer at CinemaBlend.