Damon Lindelof Is Rewriting The World War Z Screenplay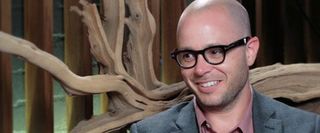 Things haven't been looking good for Marc Forster's World War Z, his action-packed adaptation of Max Brooks' popular post-apocalyptic novel about a ten-year long Zombie War. First came the curious announcement that the film's release had been bumped from December of 2012 to June, 21 2013. While this could have been perceived as a sign of faith in its summer box office potential, it became downright troubling when news broke that the feature—which lensed last summer—was reuniting its cast for seven weeks of reshoots. While reshoots are pretty common for big budget productions, this is an alarmingly extensive shooting schedule that hints to major issues with the film.
But hot on the heels of this worrisome report, THR offers a hopeful update. Screenwriter Damon Lindelof, who has co-created the winding mystery series Lost and co-wrote the sci-fi ensemble thriller Prometheus, has been contracted to rewrite the World War Z script penned by Matthew Michael Carnahan (State of Play, Lions for Lambs), focusing specifically on the film's third act.
This confirms concerns that the book's nebulous nature—which offered a collection of first person accounts of the War's carnage rather than a traditional linear narrative—has proved problematic for the filmmaker. Of course, it's never a good sign when movie is undergoing such a major overhaul this far into production, but it's hard to imagine a better fit for this screenwriting fix. Lindelof has shown a true savvy for sci-fi, blending big ideas with incredible visuals. Sure, some of his choices don't always make tons of sense, but they still tend to offer a great ride, which is really what audiences expect most out of a summer action flick.
World War Z reshoots are expected to begin in Budapest this September or October.
Your Daily Blend of Entertainment News
Staff writer at CinemaBlend.
Your Daily Blend of Entertainment News
Thank you for signing up to CinemaBlend. You will receive a verification email shortly.
There was a problem. Please refresh the page and try again.