Why World War Z Would Be Way Better As A TV Show, Especially Now
Another new zombie TV show? Hear me out on this one.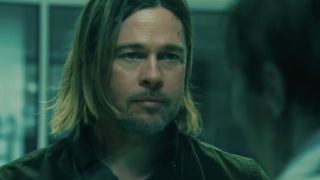 (Image credit: Paramount)
Broadcast and streaming television have found another successful wave of inspiration through adapting best selling novels. The 2023 TV schedule alone has hits like Will Trent and Daisy Jones and the Six amping up fans of those respective books. Plus, through returning favorites like You and Jack Ryan, the ecosystem of streaming entertainment has been successfully mining that same material to fantastic results. So isn't it about time for a World War Z TV show to have a shot at getting Max Brooks' oral history of the zombie war right?
It's time to reanimate this bestselling literary hit, in an age where the written word is thriving through more longform approaches. What's even better is that through this hypothetical scenario, there's unique chances at even expanding the World War Z universe through some careful thought. Let's take some time and go over why TV is the place to be for this fan favorite novel, starting off with an admission we all need to accept to truly move forward.
The Brad Pitt/David Fincher Sequel Is (Probably) Never Happening
Whether you love or hate director Marc Forster's World War Z adaptation from 2013, it cannot be denied that the previous film was a box office hit. The long in development sequel with Se7en director David Fincher sounded promising, even for fans that may have chucked their copies of the book against the wall in frustration.
Brad Pitt's gushing about the project only makes the sting of this sequel likely not happening all the more painful. Unfortunately, this Pitt/Fincher reunion was presumably mauled to death by the greatest threat to any project: development hell. While Paramount hasn't outright cancelled the project, the writing seems to be on the wall until further notice.
We may never know what this unmade sequel was supposed to do with the story started in the previous film, but it's time to let that prospect go. For our purposes, the plug on World War Z 2 should be pulled once and for all, as it's pretty much a zombie itself. However, television could be the rebirth that this adaptation could use.
World War Z's Source Text Inspires Two Very Promising Options For Adaptation
A huge complaint from the fans of Max Brooks and his 2006 novel was that the differences in World War Z's film adaptation didn't get the spirit of the book. Telling a variety of stories, with a wide cast of characters on hand to lend their unique voices, the source text was better suited for a mockumentary in the style of a Ken Burns PBS miniseries.
Using a limited series approach that employed that very concept is only one of two very promising options for adapting World War Z for TV. If whomever decided to undertake this project really wanted to, there's even a potential for an American Horror Story style anthology, where each season adapts one specific story from the catalog of accounts gathered.
The best example of how either approach would work is taking the Battle of Yonkers as a text-specific scenario. One of the most harrowing tales told in World War Z, you could make either a single stand-alone episode that covered the whole conflict, or expand that story into a whole season depicting the grueling events in a deeper context.
Fans Of Max Brooks' Bestseller Would Practically Flock To This Series
Whenever a discussion breaks out surrounding readapting novels that didn't get a cinematic fair shake, World War Z is a frequent flyer in those particular skies. Those that have taken a liking to this collection of survival stories that range from the initial pandemic to the aftermath of those very events haven't stopped suggesting that another attempt would be able to do the story justice.
So if someone were to actually greenlight a novel-accurate adaptation of World War Z, it'd be news as exciting as when The Lord of the Rings: Rings of Power was announced. Admittedly, a mixture of anticipation and anxiety would still be present, because that's just par for the course, but the Brooks text has a cultural advantage that Lord of the Rings doesn't.
Anticipation for a new World War Z adaptation could be more optimistically viewed, as it's not following a well-beloved Academy Award-celebrated trilogy of adaptations. Should this hypothetical new attempt happen to come to pass, it'd be playing into the hands of fans who thought TV is where it belonged in the first place. That anticipation means that wherever this thought experiment lands, people would follow this project out of curiosity alone.
The Last Of Us' Success Proves That People Are Still Hungry For 'Zombie Stories'
In light of the slow decline of The Walking Dead phenomenon that helped boost the AMC network to some lofty heights, a contingent of TV watchers might say that zombie stories are dead. Despite spinoffs still keeping that once mighty champion of network TV alive and shambling, that's not the example one should pay attention to when making a case for a World War Z show.
Instead, people should be keeping an eye on the reaction to Craig Mazin and Neil Druckmann's work on The Last of Us, as that's proven that people are still hungry for "zombie stories." HBO's latest golden goose has proven that with the right characters, and a unique story lens, even a video game that's as beloved and scrutinized as the book for World War Z can find itself in the right hands.
This year marks the 10th anniversary of World War Z's movie adaptation being released into theaters. With no movement on the cinematic front, enough time has passed for Max Brooks' vision to be revisited. A tale of a world fighting through an undead apocalypse of epic proportions, the potential for a fresh perspective on this beloved story is riper and more timely than ever.
However, if you are a fan of the movie adaptation of World War Z, it's still very much accessible. At the time of this writing, several streaming platforms have access to the Brad Pitt blockbuster. Those of you with a Prime Video subscription, or access to Paramount+, are free to reenter this apocalypse.
Your Daily Blend of Entertainment News
Senior Movies Contributor
CinemaBlend's James Bond (expert). Also versed in Large Scale Aggressors, time travel, and Guillermo del Toro. He fights for The User.