Dark Castle Goes Out Of This World With The Nye Incidents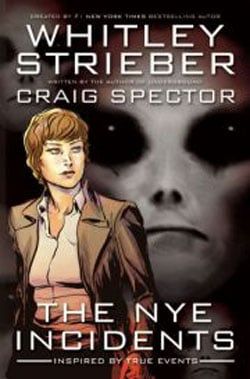 Warner Brothers' horror label, Dark Castle, has nabbed the rights to Whitley Strieber's graphic novel, The Nye Incidents. You may be thinking this is just another comic-to-film adaptation to add to the pile, but there's something that separates this material from others of its genre; it's based on true events. Cue The Twilight Zone theme song.
Back in 1985, Strieber claimed he had been abducted by aliens. While he admits he cannot confirm the details of the incident, Strieber used his first non-fiction book, Communion, as a means of announcing he experienced something out of this world. The Nye Incidents focuses on a fictional medical examiner whose expertise fall short when assigned to investigate the gruesome murder of an alien abductee. On his website, Strieber explains he created the story as "a mechanism designed to defeat fear by turning it into entertainment, and enable the reader to see behind the fear that creates the denial, and embrace the reality that, yes, this is terrifying, and we are very alone out here lost in the stars, but also, there is good to be hand, and wonder at hand." While this may sound crazy to some, Strieber makes some valid and fascinating points in his entry I suggest you read.
Now, back to what we know to be fact. According to Variety, Todd Lincoln has signed on to direct the film and will produce alongside Joel Silver, Andrew Rona and Alex Heineman of Dark Castle and Daniel Alter of Warner Brothers. A writer has yet to be found to pen the script.
Your Daily Blend of Entertainment News
Staff Writer for CinemaBlend.