David Fincher And His Editors Dissect A Girl With The Dragon Tattoo Scene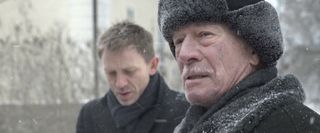 It's only a few days before The Girl with the Dragon Tattoo comes to theaters, and if you haven't read the book or seen the Swedish movies, you probably don't want to be spoiled about the many twists and turns of the narrative. But don't let that stop you from checking out the fascinating new slideshow essay at The New York Times, in which they sit down with David Fincher and his editors, Kirk Baxter and Angus Wall, to talk about how they put together one key sequence in which the wealthy industrialist Henrik Vanger (Christopher Plummer) explains to journalist Mikael Blomkvist (Daniel Craig) the 40-year-old mystery he wants the famed writer to solve.
The sequence comes early in the movie, and merely sets up the details that Mikael and his now-famous research assistant Lisbeth Salander (Rooney Mara) will be solving throughout the film. And the slideshow gets into so many of the details that Fincher is famous for focusing on, but for which we can really credit the editors-- the way they tighten a scene to make it go faster, the way they overlap audio from one scene to another, even the camera angles they choose. Obviously they work in close concert with Fincher, but he clearly chose them as editors because they share his same meticulous nature. They've also got interesting stuff to say about the film's cinematography, which shifts in a big way for the flashback sequences, and then shift again later in the film when revealing a new angle on the past.
Take a look, and if you're still curious to know more, you can check out the two Dragon Tattoo reviews we've published this week-- both Eric's take and my review were flat-out raves. The movie opens in theaters on December 20, a day ahead of all the other holiday competition, and hopefully by now we've convinced you it's worth the look.
Staff Writer at CinemaBlend
Your Daily Blend of Entertainment News
Thank you for signing up to CinemaBlend. You will receive a verification email shortly.
There was a problem. Please refresh the page and try again.