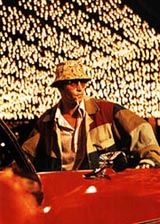 Playing a rowdy lush in Pirates Of The Caribbean was so much fun for Johnny Depp, that he couldn't resist the opportunity to hit the bottle again.
Hunter S. Thompson, the controversial novelist that recently passed away, detailed his wild escapades in his first novel The Rum Diary. According to Variety, Johnny Depp will play the gonzo journalist for a second time (Fear & Loathing In Las Vegas was the first). The story is about Thompson's experience with journalism, and of course drinking, in the late 1950's in Puerto Rico.
Bruce Robinson will adapt and direct the film, financed by FilmEngine. Robinson has previously deliberated on Withnail & I, a solid independent film that deserved a wider audience. Depp has wanted to work with Robinson and his quirky mind for a while now, and at last fate has brought them together. "Johnny had tried to hire Bruce four times and this was the first thing he accepted", says Rhulen (producer). "Johnny is working hands on with Bruce to develop his character, and we'll worry about the rest of the cast later. So many talented actors are fans of Hunter that that part should be relatively easy."
Production will begin when Depp has completed filming back-to-back sequels for Pirates Of The Caribbean. Count me in for seeing The Rum Diary. I can never resist a good wacky movie. Or Johnny Depp, for that matter.
Your Daily Blend of Entertainment News
Thank you for signing up to CinemaBlend. You will receive a verification email shortly.
There was a problem. Please refresh the page and try again.