New Details on 300 Sequel Battle Of Artemisia From Xerxes Himself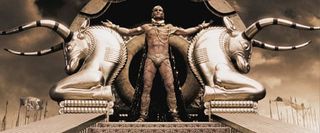 Rodrigo Santoro, who memorably played the kinky and gold-laden Xerxes in Zack Snyder's glossy gore fest 300, has revealed some surprising new details about the film's in-development sequel, 300: Battle of Artemisia. Speaking with Omelete (via Collider), the What to Expect When You're Expecting star confessed that he may step back into his golden briefs and reprise his role as the Turkish tyrant, saying:
This is a bit of a shock as recent reports had Animal Kingdom's Sullivan Stapleton posited to play Xerxes, while up-and-comer Jamie Blackley was set to portray the young hero looking to take him down. Does this mean those reports were false or that Santoro's out of the loop? It's hard to say as 300: Battle of Artemisia seems still to be shifting. Though this sequel was originally intended to be a prequel—based on Frank Miller's comic Xerxes--Santoro, who warned the script is still evolving, admitted the screenplay now only has "some of [Xerxes's] backstory," and that it will be tackled very quickly. Instead, the focus of Battle of Artemisia will be on an Athenian—presumably Blackley—who attempts to topple Xerxes's cruel rule. But don't call it a prequel, as Santoro reveals:
If Santoro is right, and Battle of Artemisia is intended to take place during 300, then continuity favors his casting over Stapleton's. However, while the idea of expanding the world of 300 appeals to me, I find this meanwhile approach underwhelming. By focusing on another battle that was going on simultaneously as the epic clash displayed in 300, it seems to me the heroics of the first film's warriors will be undermined as the villainous forces being attacked on a second front, drastically lowers the stakes. Beyond that, I don't see the point of knowing Xerxes's background. The unknown is typically way more terrifying that the known, so why reveal the why of Xerxes? Personally, I'm hoping Santoro's woefully misinformed.
Your Daily Blend of Entertainment News
Staff writer at CinemaBlend.