Disney's 20,000 Leagues Under The Sea Will Shoot Next Year If Australia Invests Big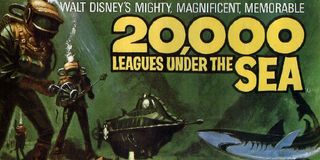 Disney is looking to make a big-budgeted adaptation of Jules Verne's beloved novel 20,000 Leagues Under The Sea. But to launch this science-fiction epic in 2015, they are demanding a major financial commitment from Australia.
THR reports Disney is eager to get production on 20,000 Leagues Under The Sea rolling in early 2015 in Australia, a nation that in the past has offered hefty tax incentives to shoot there. However, their initial deal with Australia was made under former Prime Minister Julia Gillard. So Disney is looking to strike a new deal with newly elected PM Tony Abbott.
18 months ago, Disney was being offered a $21.6 million incentive to shoot 20,000 Leagues Under The Sea in Australia. This may seem insane to those unfamiliar with financial incentives for film productions. But the basic concept is that a film production brings jobs and revenue to a location. Take a look at how The Hobbit trilogy dolled out tons of dosh in New Zealand, to get some sense of it. Or consider The Wolverine, which shot in Australia in 2012.
The Wolverine was estimated to have created 1,750 jobs, utilized more than 1,000 Australian companies, and brought $80 million in investments to the nation. For shooting there, the Australian government granted 20th Century Fox a $25 million grant. So in the end, both sides score a win. Disney believes they could bring about such a success, but first they want more.
Forget $21.6 million. Despite concerns that Prime Minister Abbot's more conservative government wouldn't fulfill the old deal, Disney is pushing for a bigger grant from Australia. The studio is requesting that Australia bump up the grant to 30% of the film's budget. What's unclear in the THR piece is how many dollars this would equal, and if the budget referred to is the final budget, or one that only encompasses below-the-line costs. But adding to their power in this play, is that 20,000 Leagues Under the Sea is rumored to be the biggest budgeted film to ever shoot in Australia.
Backing Disney's play is the Australian union Media Entertainment and Arts Alliance, which is currently working with the studio for a contract for their workers. In an open letter, Director of MEAA Malcolm Tulloch asked that federal arts Minister George Brandis consider the importance of such deals in developing Australia's filmmaking sector within the global market, pointing out how often Australian talent goes abroad to get work. You can read his letter in full here.
Last we heard of 20,000 Leagues Under The Sea, the action-adventure had David Fincher aboard to helm. But that was back in the spring of 2013, before Fincher moved on to make a totally different adaptation in Gone Girl. Will he return to tell the story of Captain Nemo? We'll likely get word once Disney can lock down its location. It's all on you, Australia.
Staff writer at CinemaBlend.
Your Daily Blend of Entertainment News
Thank you for signing up to CinemaBlend. You will receive a verification email shortly.
There was a problem. Please refresh the page and try again.