Disney Bans Johnny Depp From Promoting Rum Diary On ABC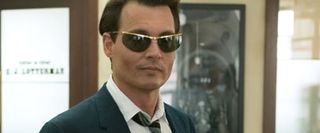 File this one under "Problems That Probably Didn't Really Need Solving in the First Place." Apparently Disney has banned Johnny Depp from speaking to ABC affiliates about his film, The Rum Diary, which comes out on October 28th. The reason? According to THR, it all comes down to a clause in Depp's Pirates of the Caribbean contract. Disney purportedly doesn't want The Rum Diary to "get more exposure" than the Pirates flicks. Clearly this is a valid concern. I mean, The Rum Diary is based on the works of gonzo journalist Hunter S. Thompson, whereas the Pirates of the Caribbean films have only brought in a couple of billion dollars worldwide.
Word of the strange clause came out at the Austin Film Festival Friday, when reporters from Houston's KHOU were not allowed to interview Depp or even to film him, unlike the non-ABC affiliates on hand. Depp was in Austin to attend a screening of Rum Diary at the festival and to receive an award for his "Extraordinary Contribution to Film." I wonder if the ABC affiliates were allowed to film that...
All kidding aside, I'm a big Depp fan, and I would hate for any moviegoers to become confused or disoriented when it comes to telling the difference between The Rum Diary and Pirates of the Caribbean. I mean, they do both take place on islands and involve rum. Here's a handy questionnaire to help sort things out.
1) Is Johnny Depp in the thing you're watching right now?
YES - Go to question 2.
NO - Stop wasting my time.
2) Does he appear intoxicated?
YES - Go to question 3.
NO - Don't be silly, of course he does. Go to question 3.
3) Are there any modern conveniences on screen, such as automobiles, airplanes, or two-ply toilet paper?
YES - You are watching The Rum Diary.
NO - Go to question 4.
4) Does Depp appear to be doing a Keith Richards impersonation?
YES - You are watching Pirates of the Caribbean.
NO - Go to question 5.
5) At any point during the movie have you found yourself thinking, "Man, I'd like to make out with that Amber Heard."
YES - You're watching The Rum Diary. Probably. You may just have a thing for Amber Heard.
NO - Why not? Go to question 6.
6) Have any of the following appeared on screen: ghosts, krakens, mermaids, animated skeletons, squid people, or Orlando Bloom?
YES - You are watching Pirates of the Caribbean.
NO - Go to question 7.
7) Does Depp have scissors on his hands?
YES - You are watching Edward Scissorhands.
NO - Stop what you're doing and watch Edward Scissorhands instead.
We hope this has been helpful.
Your Daily Blend of Entertainment News
Thank you for signing up to CinemaBlend. You will receive a verification email shortly.
There was a problem. Please refresh the page and try again.