DreamWorks Animation May Go Independent, With Help Of Former Disney Exec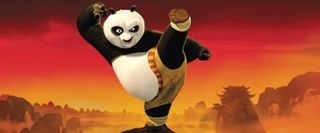 Even when DreamWorks decamped to Disney in 2009, allowing the family-oriented studio to release their movies like The Help and Real Steel, the animation wing stuck around at Paramount, in a deal that seemed beneficial to both sides. After years of being also-rans to the Pixar greats, DreamWorks Animation started putting out some stellar films like How to Train Your Dragon and Kung Fu Panda, proving that you didn't just need the John Lasseter brain trust to make quality children's films. Paramount got a cut of the DreamWorks profits, DreamWorks got to take advantage of a massive studio distribution system… everyone wins, right?
Well, yes, until Paramount decided they wanted a bigger cut of DreamWorks Animation, then earlier this year launched Paramount Animation, an in-house studio with plans to release one animated film every year. They had kicked things off earlier that year with Rango, widely considered one of the best animated films of the year and a good-sized hit, though not enough given its huge price tag. With Paramount seeming to move on smoothly without them, DreamWorks is now exploring their options to go it alone-- and they're bringing in a former rival from Disney to help them do it.
According to The LA Times, former Disney President of Global Distribution Chuck Viane is being brought in as an adviser to DreamWorks, helping Jeffrey Katzenberg-- a former Disney guy himself-- figure out where DreamWorks Animation ought to go next. Bringing Viane on board is a pretty serious sign that DreamWorks isn't just looking to shack up with another studio, and indeed, Katzenberg said to the Times that Viane's role will involve "exploring self-distribution" for DreamWorks Animation titles.
Even though Kung Fu Panda 2 didn't make nearly the cultural splash that its predecessor did, and grossed well below Pixar's offering Cars 2, it made more worldwide. All the same, the time for them to figure out what's next is now-- Puss In Boots may well mark the last gasp of the massive Shrek franchise, and with Paramount about to bring another competitor into the ring, DreamWorks Animation will need some big ideas to hang on to their dominance. They may never make works of art on par with Wall-E or Ratatouille, but to keep up films as fantastic as How to Train Your Dragon, a little bit of independence from the studio system might be exactly what they need.
Staff Writer at CinemaBlend
Your Daily Blend of Entertainment News
Thank you for signing up to CinemaBlend. You will receive a verification email shortly.
There was a problem. Please refresh the page and try again.